Happy Easter Everyone! I've been having such a great time milk painting, I'm slacking on catching up with my blog posts. I have so many projects to tell you about but life won't let me catch my breath. I'm wrapping up all my custom work this month and focusing strictly on clearing out the pile in my garage. But before I can show you and tell you about all the wonderful opportunities that have come my way, let me tell you about this dresser in GF Coastal Blue.
This post contains affiliate links.
A repeat client brought this dresser to me to restore. It had some intricate details on the drawer fronts but the most prominent feature was the 4 layers of chalk paint in yellow, brown and blue. My client wanted me to paint the base a navy blue, and restore the drawer fronts to the original wood. I had no idea what I was in for.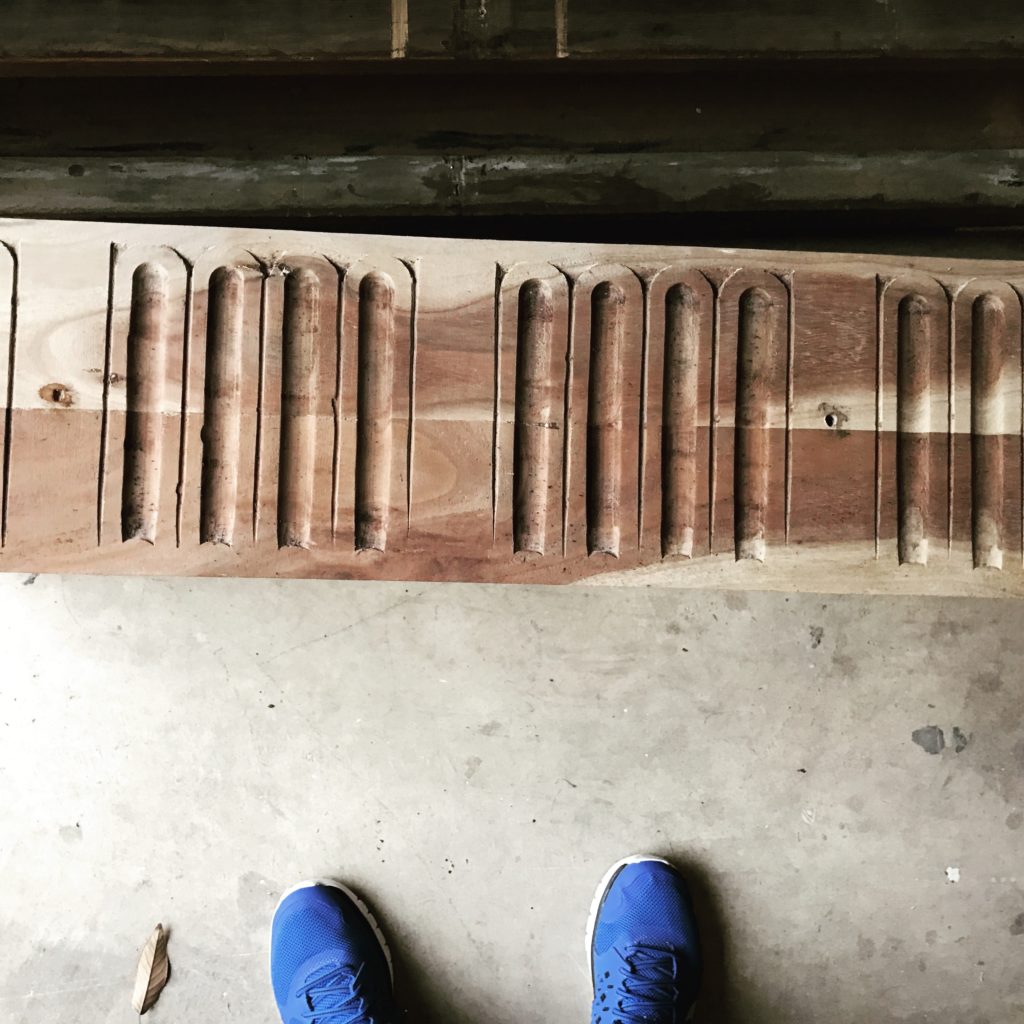 The Prep
As you can see from the photo above, this wood had an interesting carved wood front and wood grain. It took me TWO WHOLE HOURS to strip each of the drawer fronts (there were three total). The more I laid eyes on that gorgeous wood grain the more time I was putting in to stripping it the right way and not just using the sander.  I used Citristrip and plastic wrap to let the stripper penetrate. After about ten minutes or so, I used a wire brush and steel wool in a multigrade pack to get into all the grooves. After a wash with soapy water and a wipe down with mineral spirits, that gorgeous wood grain kept me motivated through six hours of stripping.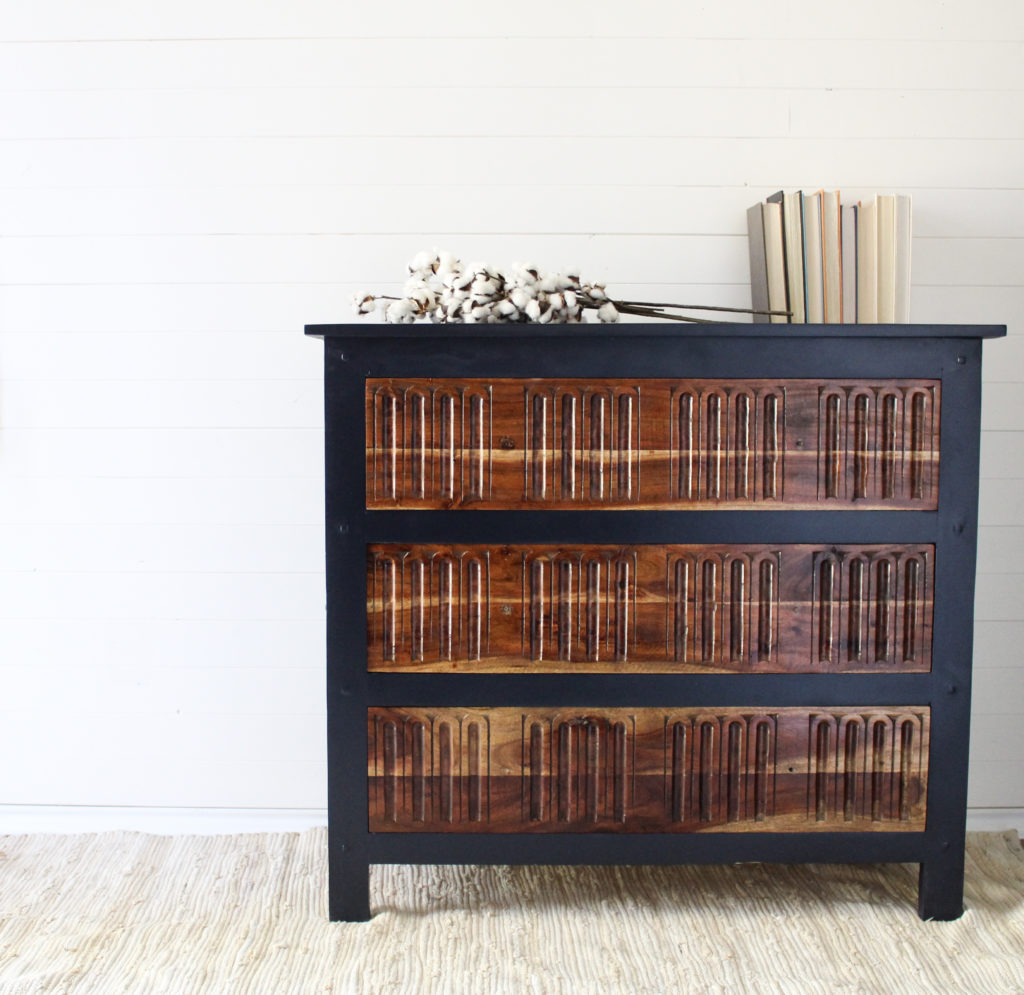 The Look
You guys, I can't tell you how thrilled I am with the way this piece turned out. How gorgeous is that wood? I am making the heart eyes emoji right now with my face. I picked General Finishes Coastal Blue because my client wanted a deep navy. After two coats, I sealed with General Finishes HPTC in Satin for a clear coat.
I still cannot believe the grain on these drawers. Oh and by the way, the ENTIRE dresser was made of Sheesham wood, also known as an Indian Rosewood. I was so sad to paint it, but it would have been too much wood to have left it all natural. Plus this was a client request. Instead I gave the drawers one coat of Minwax Fast Drying Poly in Satin to absorb into the grain for protection. After it dried for 24 hours, I went over it with one coat of Fusion Mineral Paint's Beeswax Finish with Hemp Oil. I posted a video on my Instagram to show you how awesome this wax is. It gives you a smooth surface with a gorgeous shine!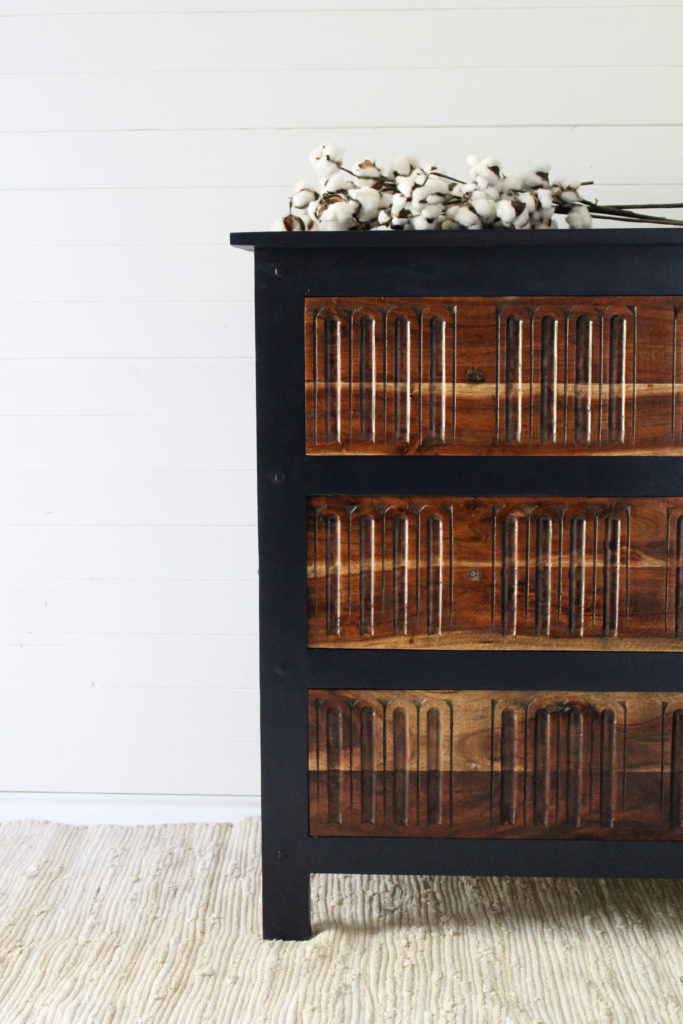 My Client was finishing the dresser off with her own hardware, but Im so glad she let me bring this one back to life without being completely covered in paint. I am forever enamored by Indian Rosewood. I only wish it was easier to find! Hope you guys loved this makeover! Im gonna try and bring you up to date on current projects as soon as I can catch a break!