Hi Everyone! I'm bringing this post to you from Panama City, Florida! I'm on a work trip, which means I have some time to myself to relax in a nice hotel room, with the sounds of the ocean and rain just outside my window. Great seafood and cold beer are just a short drive away! Sometimes I forget how different it is to not have a full house of dogs, kids and husband around to keep me busy. It's hard having all this free time on my hands, especially when I'm away from my furniture and projects and I can't paint. So blogging is the next best thing…I guess.
Back in April I blogged about a set of MCM End Tables that I refinished for a friend. We had been searching high and low for a dresser to match, when we found this beauty on Offerup for $40 bucks.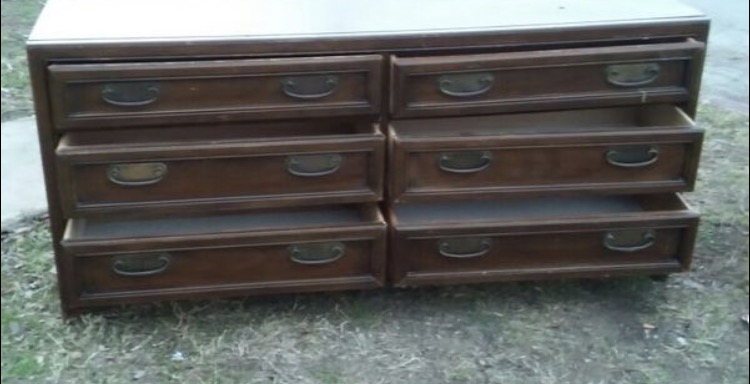 This post contains affiliate links.
There's not really much to look at from this photo, but the clean lines and unique hardware would work great to match her end tables. It turned out aside from the top, which was laminate, everything was solid wood and it was a Drexel dresser.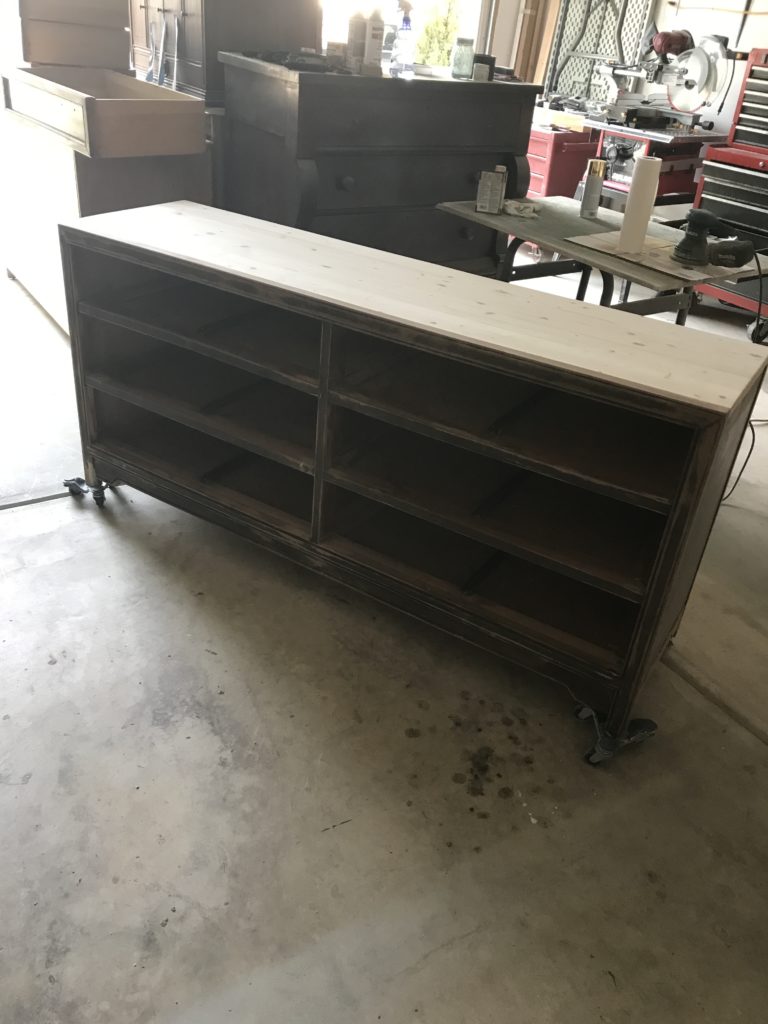 First thing that had to go was the laminate top. It had a hole drilled in the top and it was too large for wood filler. On top of that, the MDF under the laminate was water damaged so it warped and flaked. It just had to go.  We replaced the top with one of those "ready to paint" Aspen wood panel boards from Lowe's. The hardest part was removing the laminate which was attached to that trimmed face front, and reattaching it with clamps.
Then we did our usual prep, fill, sand, clean, and prime. Then it was time for paint!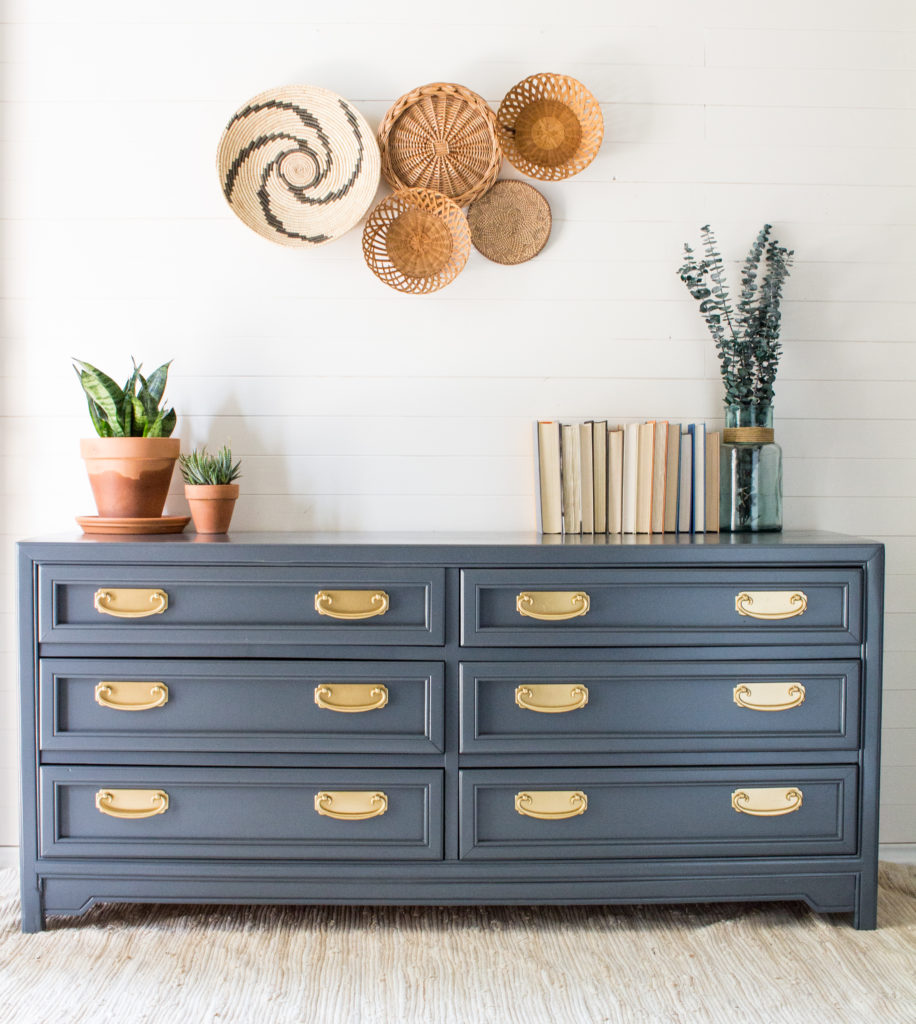 I sprayed about three coats of Fusion Mineral Paint in "Soapstone." This is a really deep gray with blue and purple undertones. It really is a classy color though, and we decided to use this same color on our bathroom vanity, which I have yet to get photos of.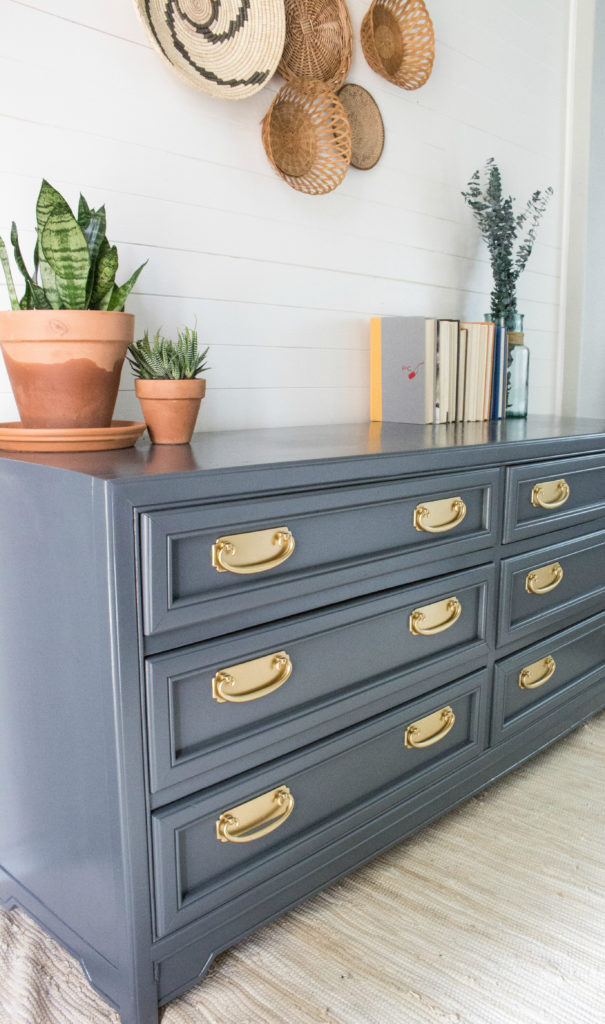 I knew this dresser was going to take some heavy duty use, so I sprayed about 3 coats of Satin Polyurethane on the sides and about 6 coats over the top. With each coat I sprayed, I did a super light sanding with 320 grit sandpaper. I think over all that contributed to giving the poly a more glossy look.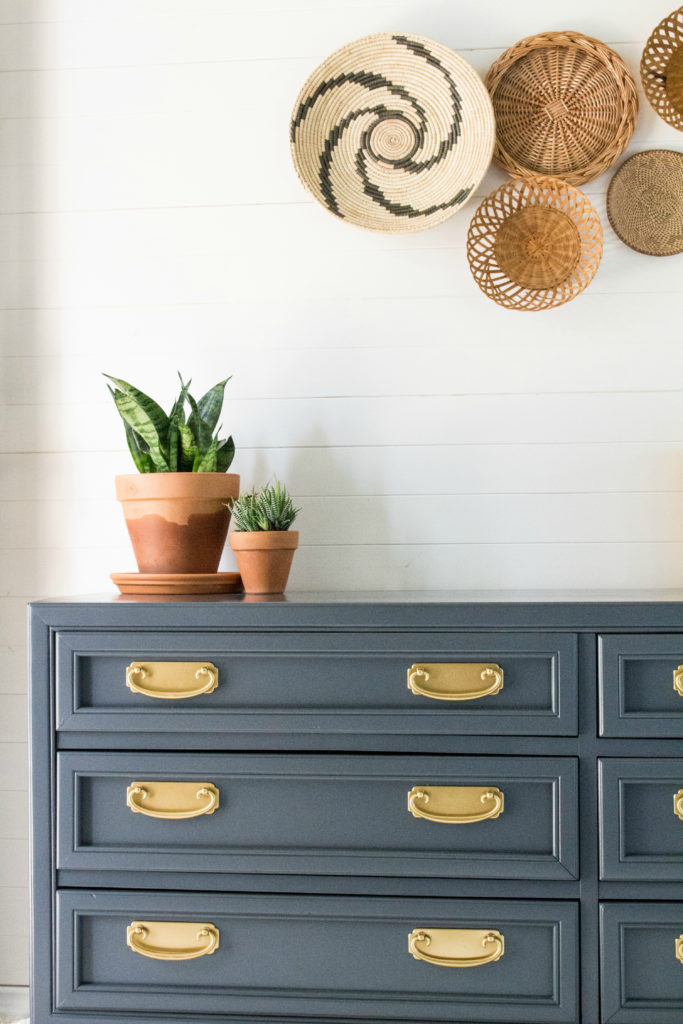 I cleaned the original hardware with vinegar, soap and water, but they were far beyond the help of any chemical cleaner. So I primed them, and gave them a few coats of my go-to  gold spray paint, and sealed them with clear lacquer. They turned out so pretty and look great against the gray!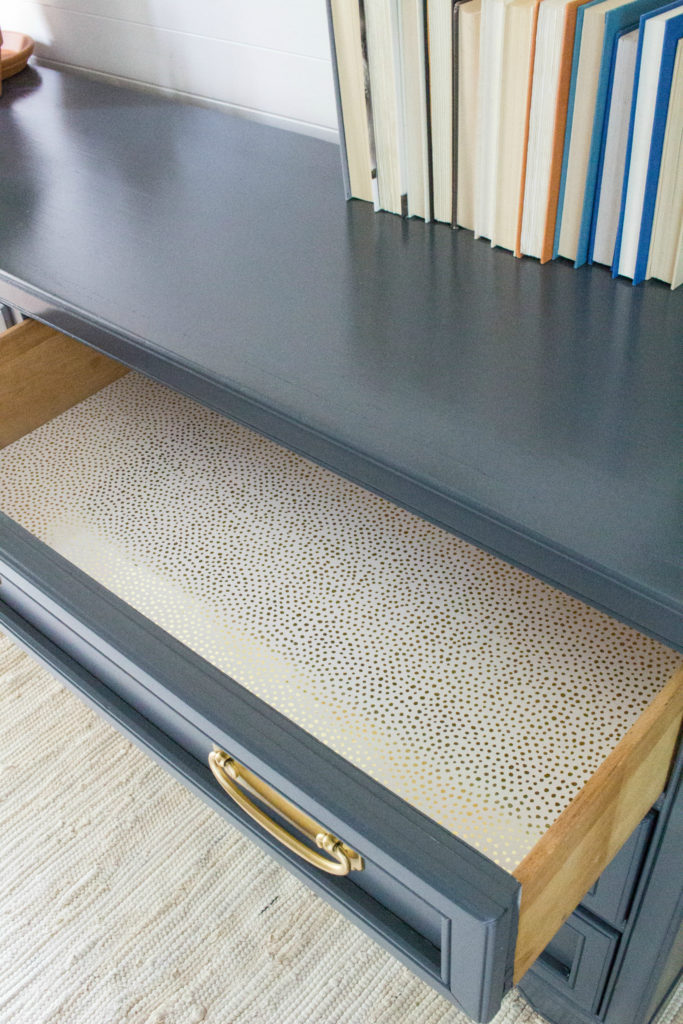 I was able to salvage some of that pretty gold flecked paper I used in her end tables to line the drawers. I really liked doing this solid, glam finish. Its refreshing from my usual rustic and distressed style.
Hope you guys enjoyed this makeover! I channeled my inner boho-glam for staging since baskets and potted plants are all the rage now.