Welcome everyone! You may be asking yourself why this webpage looks so familiar only with a different name? Well, don't go anywhere! You came to the right place. Except now, we have rebranded our business to The Driftwood Home!!! Yay!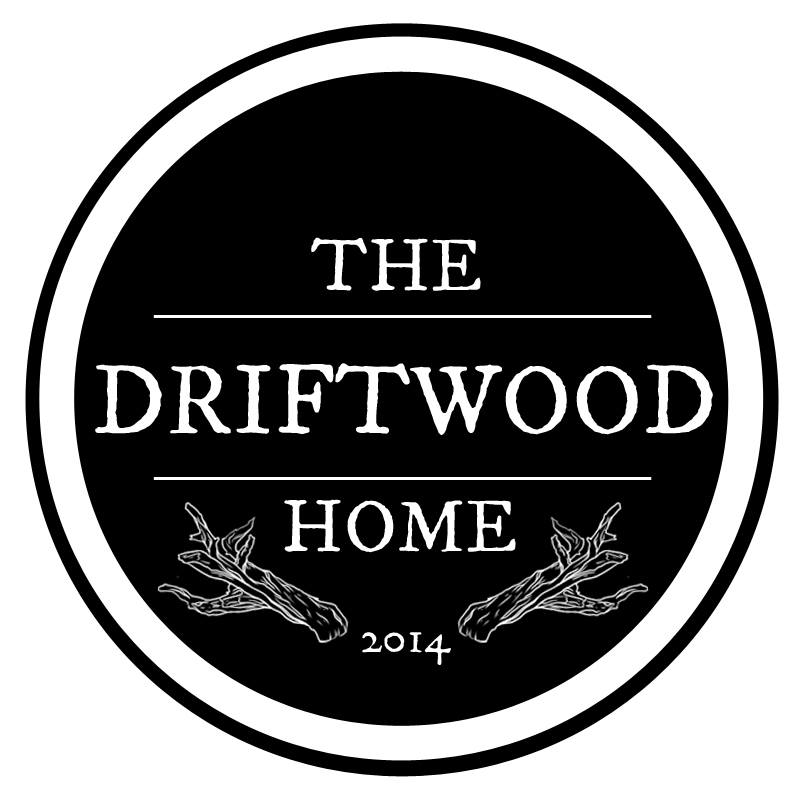 This change is bittersweet for Jake and I, but to be honest, it's been a long time coming. The change not only represents us closing the door on a wonderful and successful chapter of our lives, but also opening a new door and taking the first step towards our long term goal of one day (hopefully soon) opening our very own Brick and Mortar storefront. Team Sutton Designs was really a blessing in disguise. I had no idea that my love of furniture painting and vintage collection would start with my son, but everything I do, I do for my family, I do for my son.
Over the last few years, TSD has steadily grown in a direction I never could have imagined. It has brought us so many wonderful opportunities to make new friends, learn new techniques and work with wonderful companies who support the DIY'er in all of us. We have been blessed to have made it this far in our small business with support from our readers, our followers and those who share the love for our work. It was time we took a new step in a direction that started at the very core of our business foundation. Our name.
So why "The Driftwood Home"? Well to be honest, the road to finding the perfect name for our brand wasn't easy. In fact the majority of it was painful and I'm going to get a little vulnerable with you because it only emphasizes my point that success is both pain, and a state of mind. Warning, this blog post may get a little long, feel free to skip to the good parts, but again, I want YOU to know who we are.
If you have been a frequent reader, you will know that both Jake and I are active duty Air Force. He's served 15 years, and I, just a little under 12.  With that comes responsibility and priority, so balance has always been difficult for us, especially when painting furniture IS both work and play. The commitment of the military is intense, and there may be a time in near future where I may be called to serve overseas for the fourth time, just as my husband has (6 times to be exact) and face danger in war. This means putting a halt to my painting and vintage business, but not to worry, I have plenty of blog content to keep you reading while I'm away, if that happens. But the point of telling you this is, so you know just how much love is poured into our work.
April 8, 2016, I experienced something that rocked me to my core. I won't go into much detail because that event was a tragedy (and I want this to be a happy moment), but it affected my life so much, I was overwhelmed with depression and anxiety. I lost someone whom I admired and respected, and truthfully was a person who believed in me and the good I could do for the Air Force. Because of him, I reenlisted giving my country four more years of service. If you want to look up William Schroeder's story, click here. To make a long story short, the loss of my Commander, the circumstances surround the event, and the effect it had on my unit was beyond belief. Terrible in the way that something like this could happen in our home…where we worked every day, AND that this could happen to someone so heroic and who survived so much worse. It was incredible to see the amount of resiliency our unit had, and how we came together as a family to help each other grieve and deal with this tragedy and support his loved ones left behind. It really took a toll on me mentally, physically and emotionally.
Then my husband left for his deployment shortly after. I knew it was going to be hard; I knew that raising a 2 year old on my own was going to be difficult. But it was much harder than I thought I was going to be. Much, much harder. I found myself drifting into a downward depression while I dealt with the tragedy at work, and I was doing it alone. Truthfully, I had family and friends that shared their concerns for me and often asked about what they could do to help. But if I had to be honest, I didn't want to burden them with my problems. I just dealt with it on my own, day after day when the energy to do simple tasks was like asking to move a mountain. I slowly began to withdraw contact with people, I stayed at home unless I absolutely needed to leave the house, and I just kind of…got lost in my emotions. I saw myself falling into a deep hole I couldn't get out of, and every time I wanted to just breakdown, I looked at my son and remembered, I had to do this for him. I had to fix myself to be the best I could be for him…and for my family. So as exhausting as it was, the only thing that really helped me decompress was painting furniture. I threw myself into working those pieces and it was exhausting, but it helped to turn things around for me.
Some people give their furniture human names, I name mine after problems. Every piece I worked on and painted, was an opportunity for me to take apart my fear and emotions at that moment and forced me to work it out as long as I had a sander or brush in my hand. I've never admitted that to anyone, especially my customers because I know they don't want a dresser named "deployments," or a pair of end tables named "anxiety and weight gain." I had a rule to follow when it came to my painting time. I had to come to some sort of resolution with the problem I was dealing with when the piece was finally finished. Of course sometimes that never happened and some of the problems were emotional. That only takes time and healing to fix, but a lot of thought and prayer went into asking for help with those things I had no control over. In the end, it gave me a bigger appreciation for a small ritual I always do at the end of my refinishing process. I always pray over the piece I finish, and ask that whoever receives it, it brings joy and happiness to their home. It's something I've always done, and will always do, in hopes that my prayer will bring even the smallest speck of good will and vibes to its new owner.
At this point, you are probably asking, "what does this have to do with The Driftwood Home?" Well, one of the pieces I painted while in the midst of my depression was this Driftwood Buffet. And this is where the "Driftwood" piece to our name became clear to me. This color in particular just captivated me. I couldn't really tell what it was, brown, or gray, or both? It seemed really moody and complex, dark and light, weathered and worn. As I analyzed it, I noticed my definition of this color sounded like I was describing a person…. like I was describing me. Then one day, I realized that driftwood WAS a metaphor for me.  Broken wood, that has been washed ashore, weathered, twisted, tangled, survived stormy seas…the definitions of driftwood are endless. But yet the wood continues to exist, no matter how torn and tattered no matter how much damage from its time at rough seas, it survived for a purpose.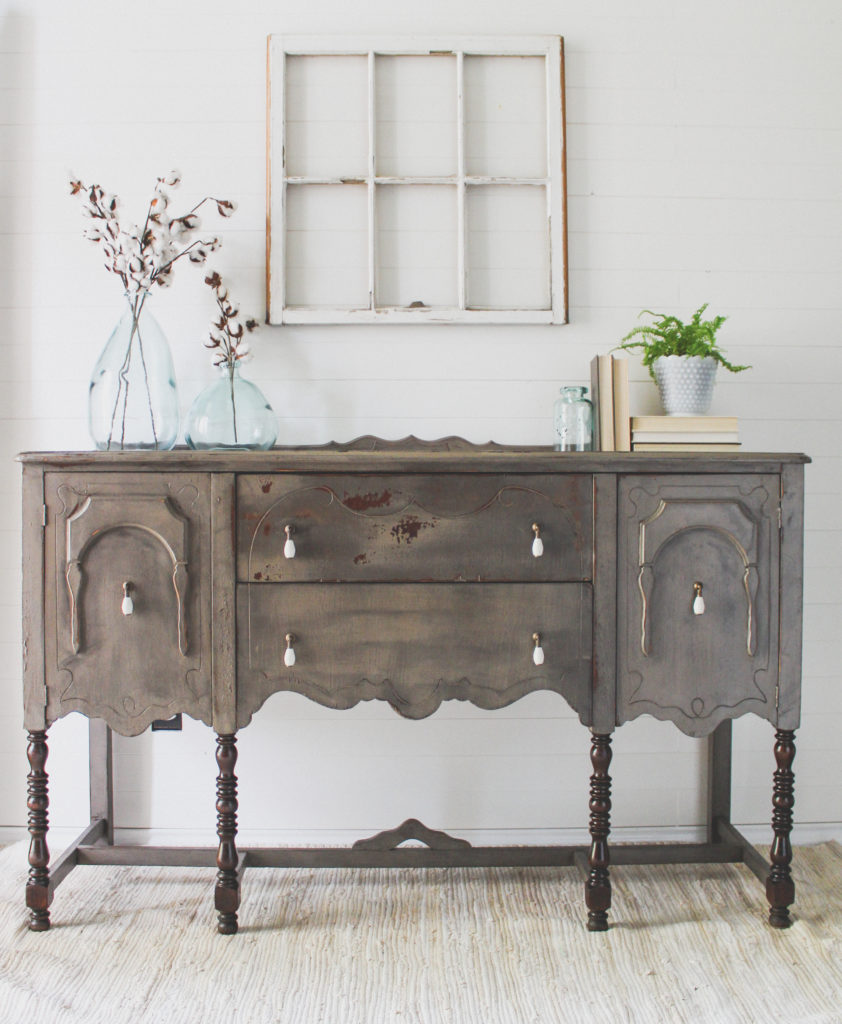 There is beauty in Driftwood, and that is why I chose The Driftwood Home. It represents the best and worst part of me, of us all when we can see the ugly and CHOOSE to make it beautiful, even if it is painful at the time. What better way to describe our passion for painting furniture and collecting old things, than by finding something thrown away in its ugliest state, only to be made beautiful and re-loved again with sacrifice, hard work and passion? Only when I realized this, did it make sense to move forward with a new change, a new outlook and a new name. This is where my sorrows were reborn into passion and I found a new love for what we do.
You see, The Driftwood Home is the perfect name for our business, for our brand. Because we know the stormy seas will come again and we know that sometimes the dark must take over the light. We must be broken to let the light in, to begin to mend and heal ourselves when we find our true purpose. And when that happens, the Driftwood will survive and the ugly will be chipped away and cleansed by the sea. It will wash ashore and wait for the right person to see it's true beauty and find a special place…its purpose in that home.
Welcome to The Driftwood Home!