Hi friends! It's been quiet on our SM channels and here on the blog since we just returned from a wonderful action to the Bay Area. I can't believe how quickly vacation comes to an end, but it was worth every moment no matter how short lived. While  I did take some time off work to reset and relax, I did use that opportunity to look at future shop locations when we retire from the Air Force. There is just something about Northern California that captures your heart and never lets you go.
Empires have the same effect on me. My home is slowly being filled with beautiful curvy empire furniture; its a timeless classic that will always make a statement. I found this small dresser on our local offer up site and I knew I had to have it. It looked like it was in fantastic condition and I love the quarter sawn oak on the drawers and top. It was destined for our home!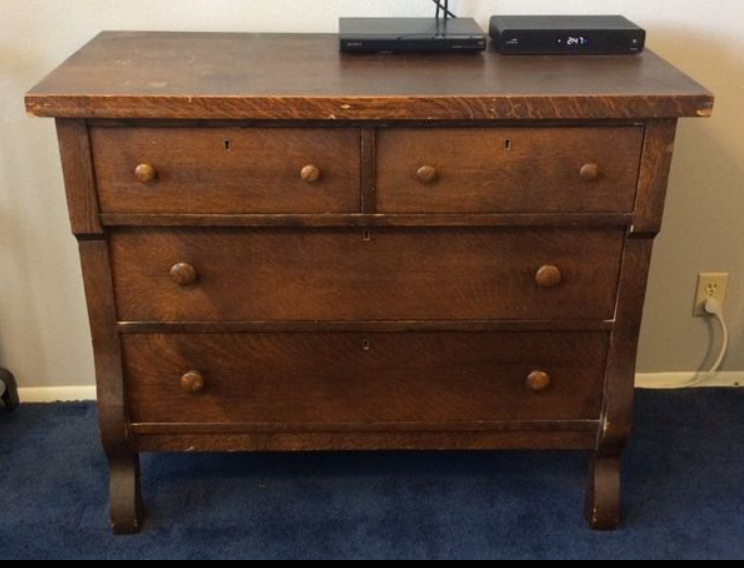 Since I am a huge gray furniture fan, I knew the color for this would have to be this rugged, weathered brown/gray by Old Barn Milk Paint called "Pistol Annie." My friend Heidi from Lily Field Furniture turned me on to this color with a table she was painting for a friend. I liked that the color was very weathered and had a masculine feel to it, but still remained neutral.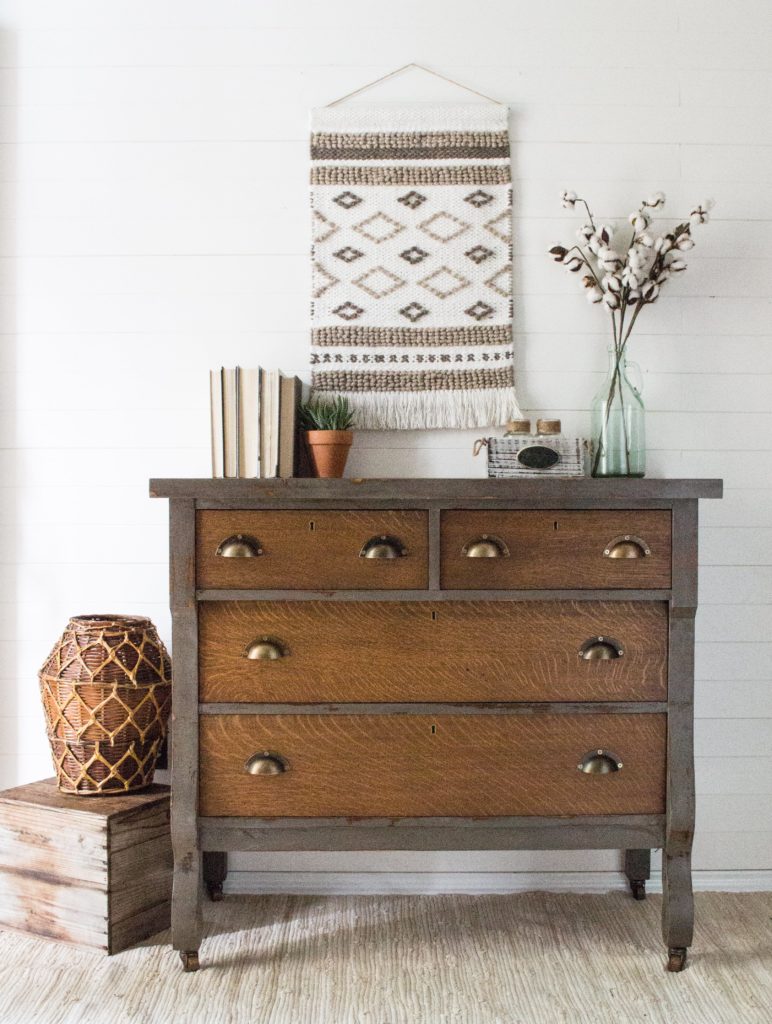 Didn't it turn out gorgeous? This color is everything I could hope for in a true Driftwood finish. I love that there are so many shades of gray and brown mixed in there, that you can clearly see both but doesn't sway towards one or the other. This is a truly complex color.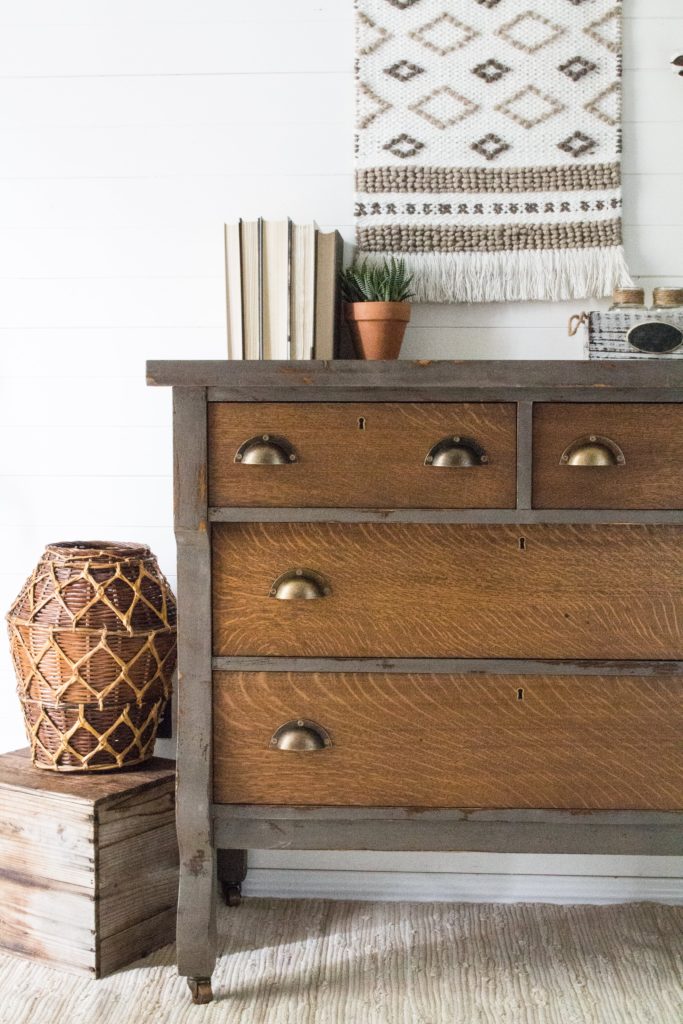 I knew I had to keep some elements of wood in there, especially because the drawer fronts and top were way too pretty to cover up. I sanded them with 180 grit paper to remove the previous finish and washed them down with mineral spirits. Applying the mineral spirits will also show you what a stained or topcoat surface will look like and help fix any blotches or uneven stain absorption. This is a crucial step, especially if you are not painting over the wood.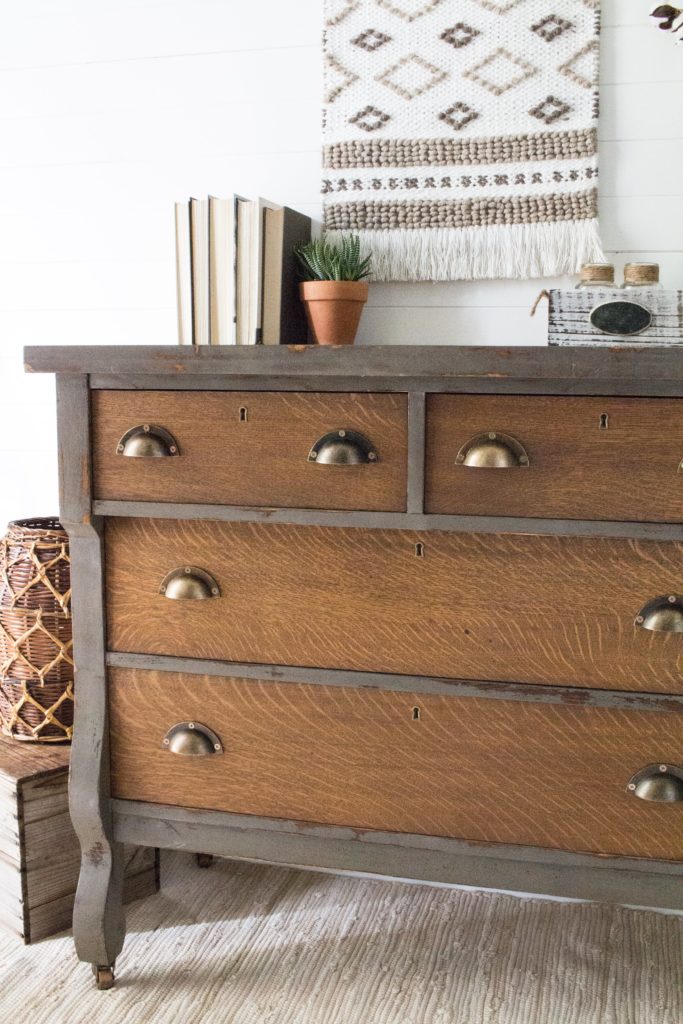 I used only ONE coat of Homestead House Stain and Finishing Oil in the color Cappuccino on the drawers and top. Can you believe only one coat gave me this deep, rich brown that enhanced that gorgeous tiger oak grain?? And it's unbelievably strong in protection. I've had this dresser sitting in my entryway for a few months now and it has survived keys, toddlers, drinks, packages, even setting down heavy objects like hammers without a scratch. I HIGHLY recommend not intentionally setting down or placing any of these objects on the surface but if you forget, just know the oils in this stain are superior in quality and your furniture will definitely withstand a light beating.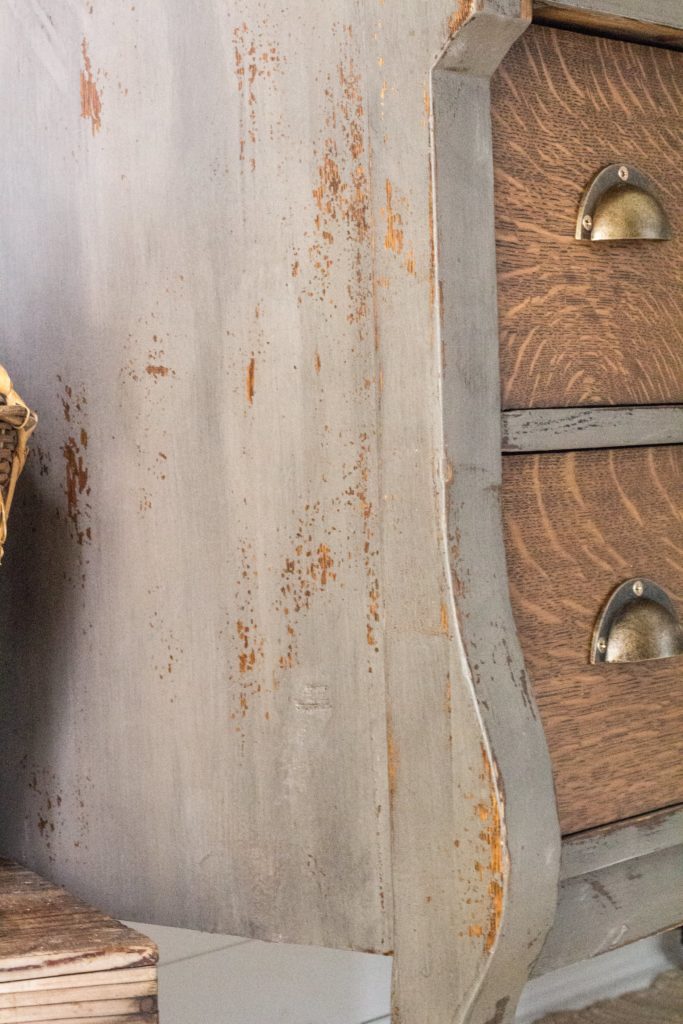 The chipping on this dresser is perfection. I didn't do any additional prep work on the base, other than cleaning. I wanted some chipping and the finish seemed dry so I didn't worry too much about a smooth surface. I used an orbital sander on the flat surfaces, and just hand sanded along the curves. After that I sealed the base in two coats of Satin Polyurethane.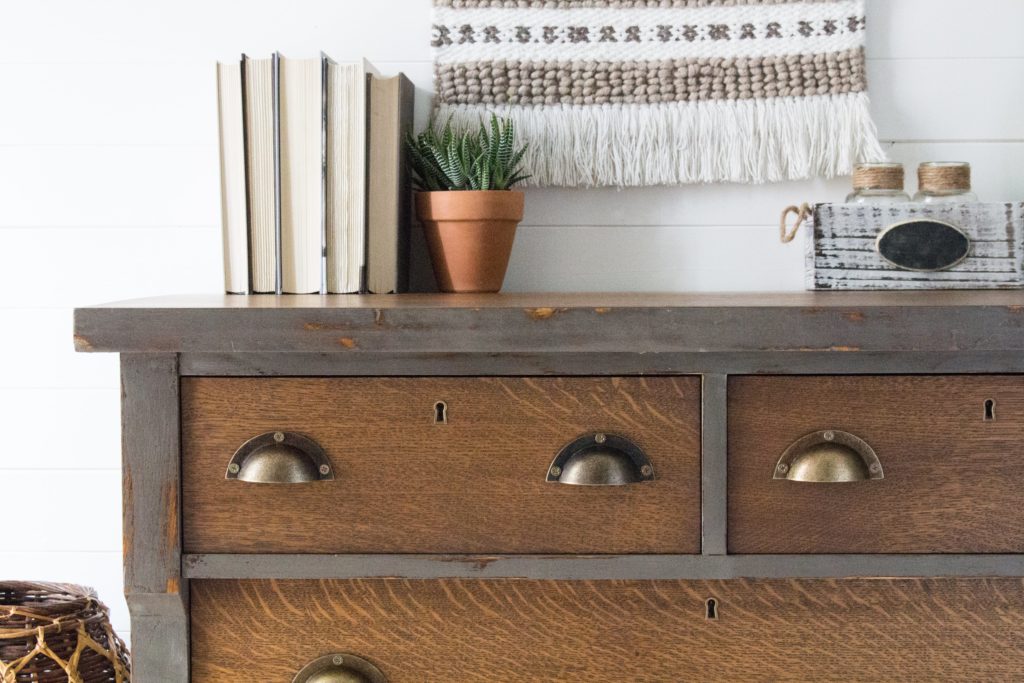 I polished every surface with Fusion's Beeswax. I absolutely love using this wax as a finish over all my projects because it gives me such a gorgeous luster and helps to even out any flashing or streaking. On top of it's cosmetic purpose, it also offer unbelievably smooth protection and doesn't change the color of any surface, even on whites. This is a must have product…if you don't have a jar or two, you need to get some now!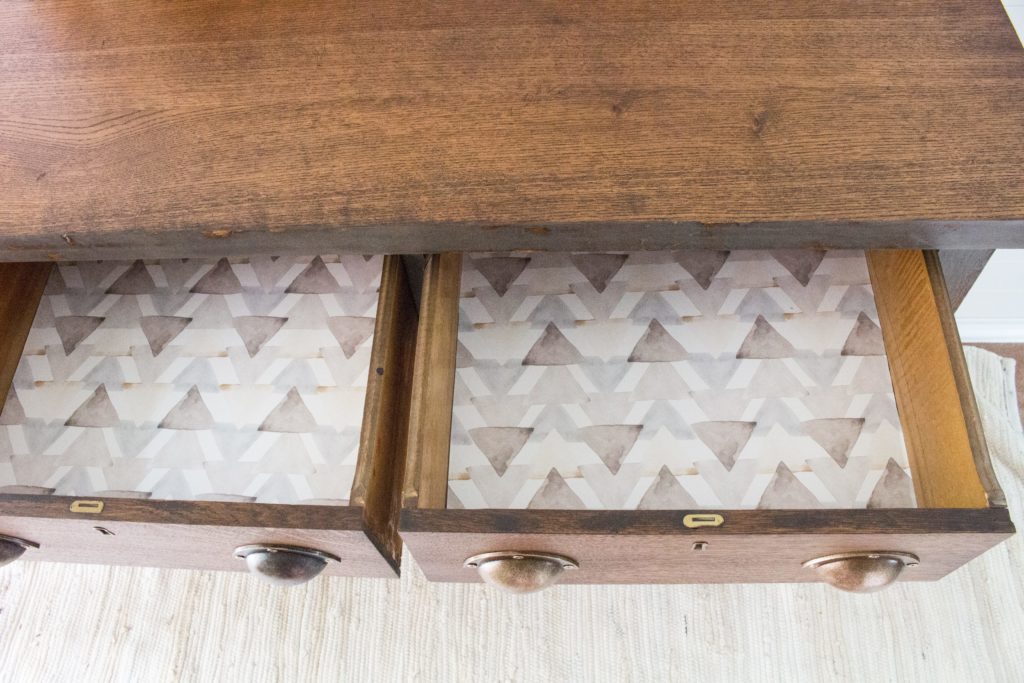 I had been saving this roll of watercolor triangle paper I ordered on Spoonflower for a special project and I'm so happy I was able to use it on something personal. It matches perfectly with this beautiful driftwood color. Hope you guys loved this transformation!