Hi Friends!
We are working on a whole new set of milk paint projects coming up in the next few weeks and as I begin to wind down my custom jobs, I am finding more time to work on some projects for ourselves. Personal projects always take a back seat, especially when I get the itch to get creative. We desperately need to get our house in order…it's been about two and half years since we moved in and we are still surrounded by things that need to get put away and the projects I always say I'll work on later. So stay tuned as I've got some pretty cool colors to work with in the near future.
For now, I want to blog about this cool card catalog dresser I finished a few months ago. It didn't always look like this. Here is the before photo from the offerup ad: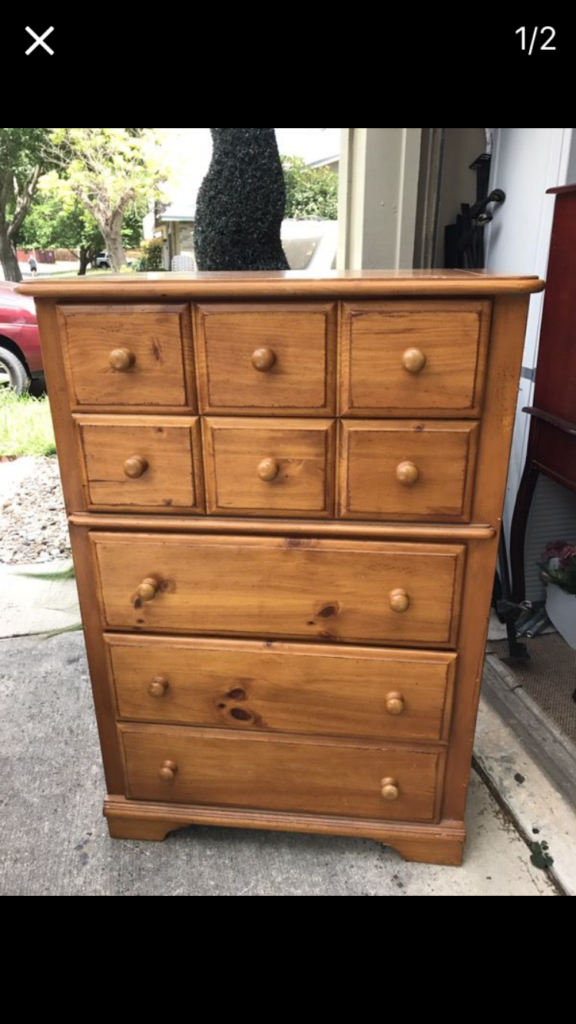 This post contains affiliate links. However, I truly love using all these products and would recommend them regardless of commission.
Right away I had a vision for this piece. I knew I wanted to go with a vintage look and there's nothing more vintage than card catalog hardware.
To recreate this look here are the supplies you will need:
Various Grit Sandpaper
Zinsser Shellac Based Primer
Fusion Mineral Paint in "Casement"
General Finishes High Performance Top Coat "Satin"
Homestead House Stain and Finishing Oil "Cappuccino"
Fusion Mineral Paint Beeswax Finish
3″ Bronze Cup Pulls by D. Lawless Hardware
Bronze Label Holder by D. Lawless Hardware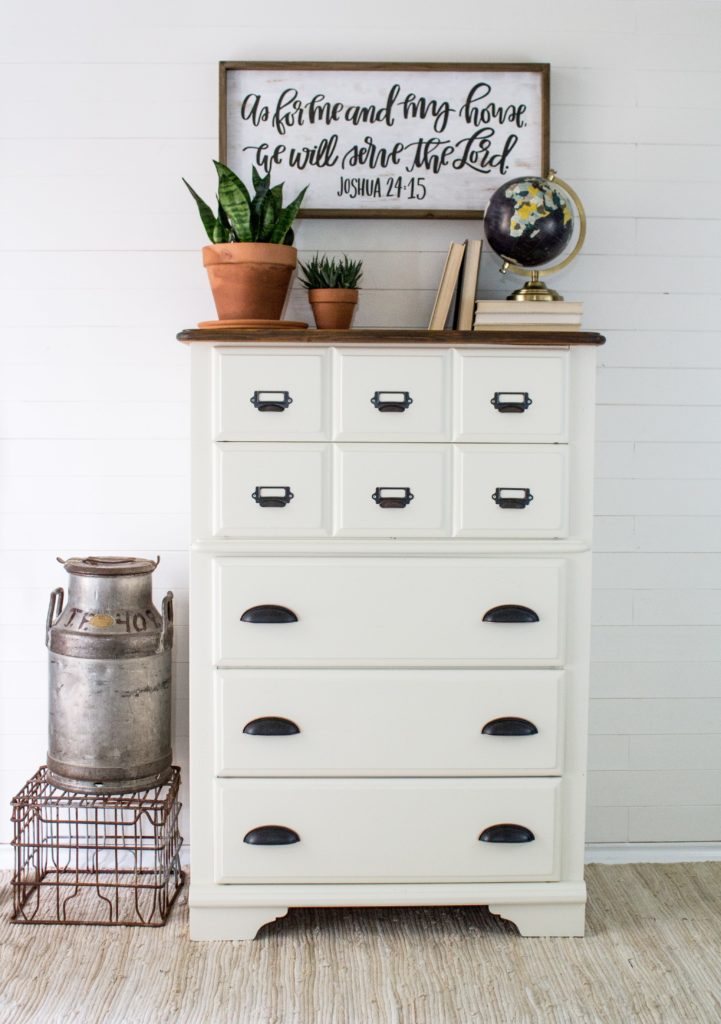 One thing that initially nailed down my vision was those "apothecary drawers." It's so simple to find old furniture that has this style of drawer, even if they are false (meaning it appears there are three drawers but really it's just one large one). Right away I knew I wanted to go vintage with some wood elements. So during my prep I made sure to take my time.
I prepped the base with 180 grit sandpaper. I didn't want to completely smooth out the marks and the wear, but I did want to scuff the finish that was on it already. After I was done sanding, I wiped it down with tack cloths to remove the remaining dust. This piece had some cool man made worm holes and scratches that appear natural, so I definitely wanted to keep those for charachter.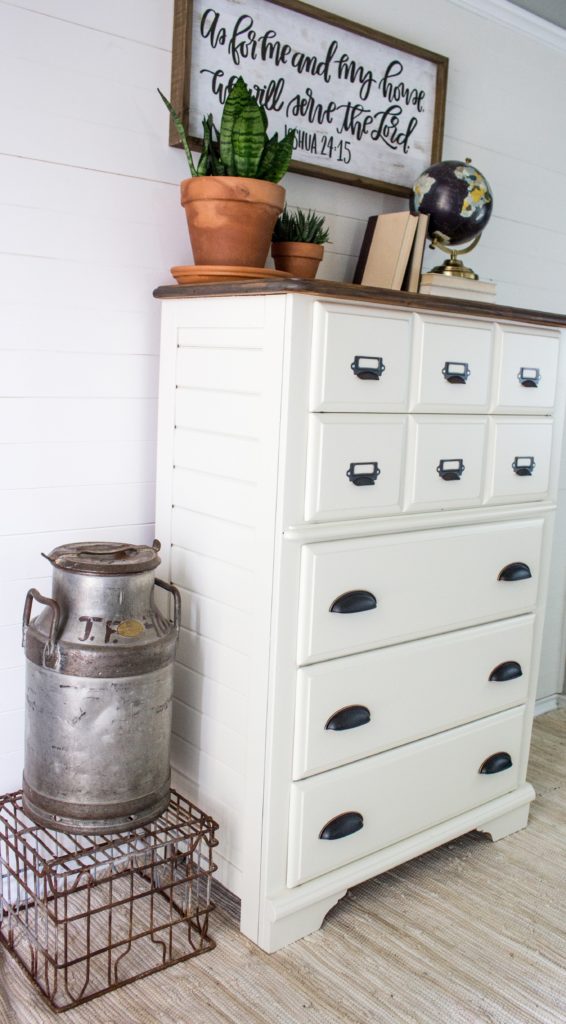 I really liked the bead board insert on the sides. I felt it really added to the vintage/farmhouse look I was going for. But as with vintage furniture and knotty pine wood, you have to be careful about wood tannins and bleed through. I knew I had to prime to protect my white finish from yellowing. So I used three coats of Zinsser Shellac Based Primer to help my white accelerate and to protect it from bleeds.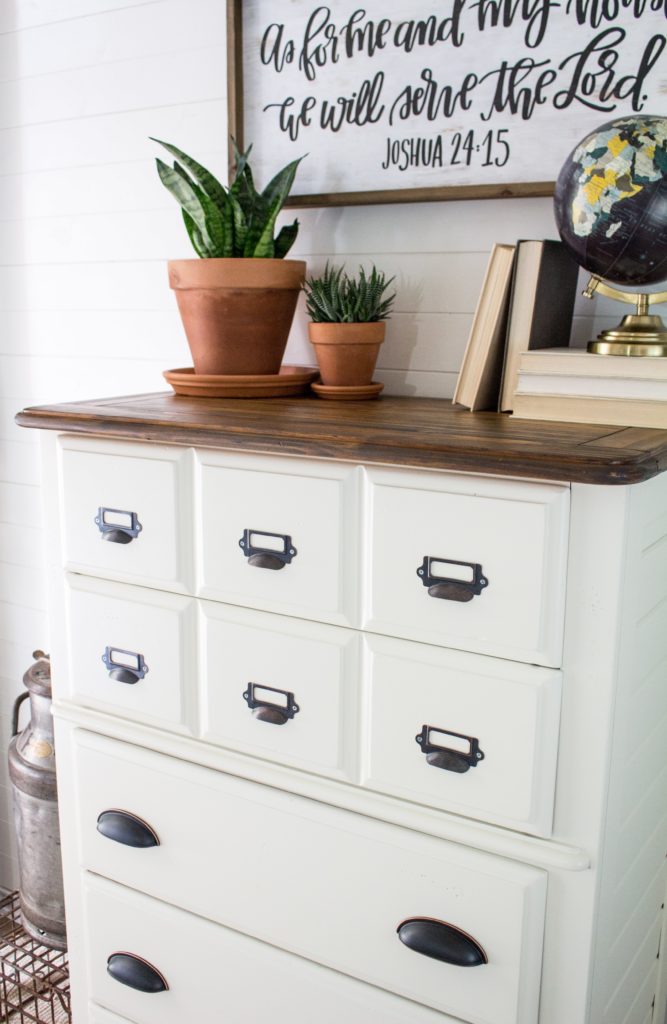 Then I sprayed two coats of Fusion Mineral Paint in "Casement" which is at the brighter end of the antique whites. I really love how FMP levels out evenly and gives me great coverage! I really only did the second coat because I couldn't tell if I had gotten every nook and cranny, and I just wanted to be sure. Then I topcoat with two coats of General Finishes HPTC in Satin.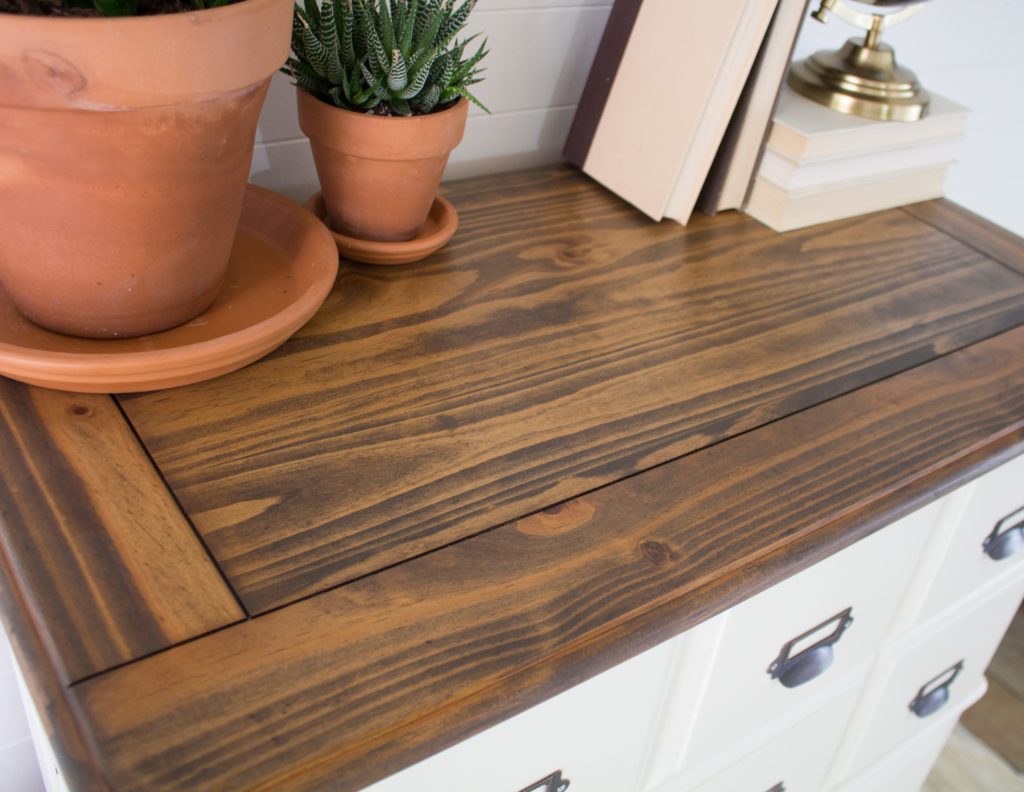 I used various grits of sandpaper starting with 80 to strip the previous finish on the top. I wanted to make sure the grain was clean and ready to accept stain. I continued using 120, 150 and stopped at 180. You don't want to go any higher than 180 when prepping for stain, because you will close the fibers. When fibers in wood are closed, it causes issues with the wood accepting the stain and you end up with a blotchy mess or a finish that doesn't appear even.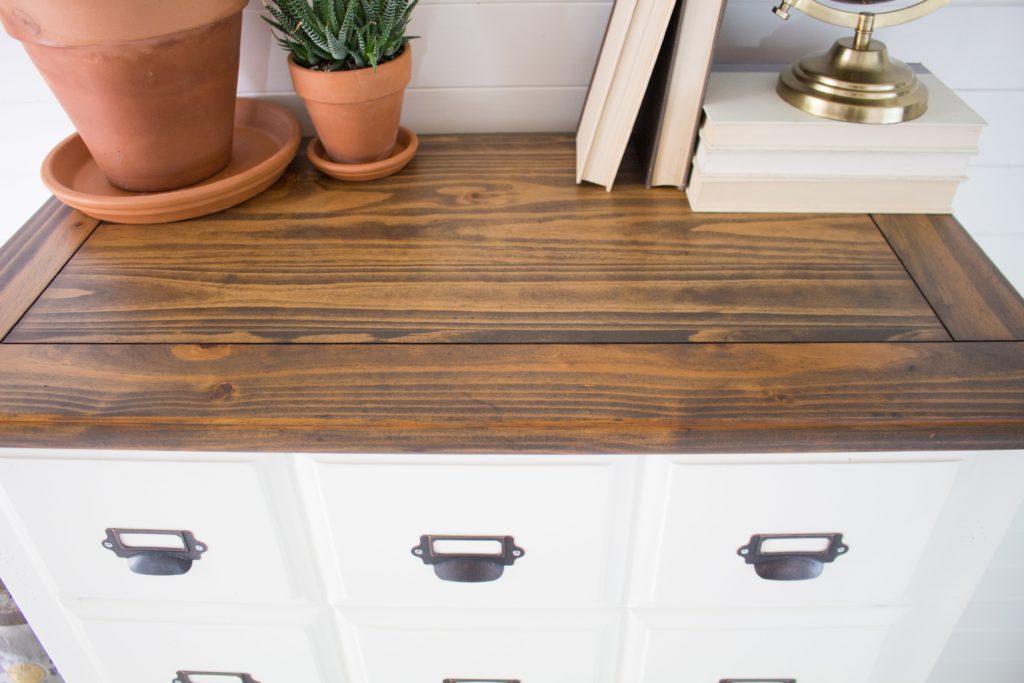 I used only ONE  coat of Homestead House Stain and Finishing Oil in Cappuccino. This stain is amazing and durable and I knew it would emphasize the grain. I waited about 24 hours before I applied one coat of Fusion's Beeswax Finish for some shine.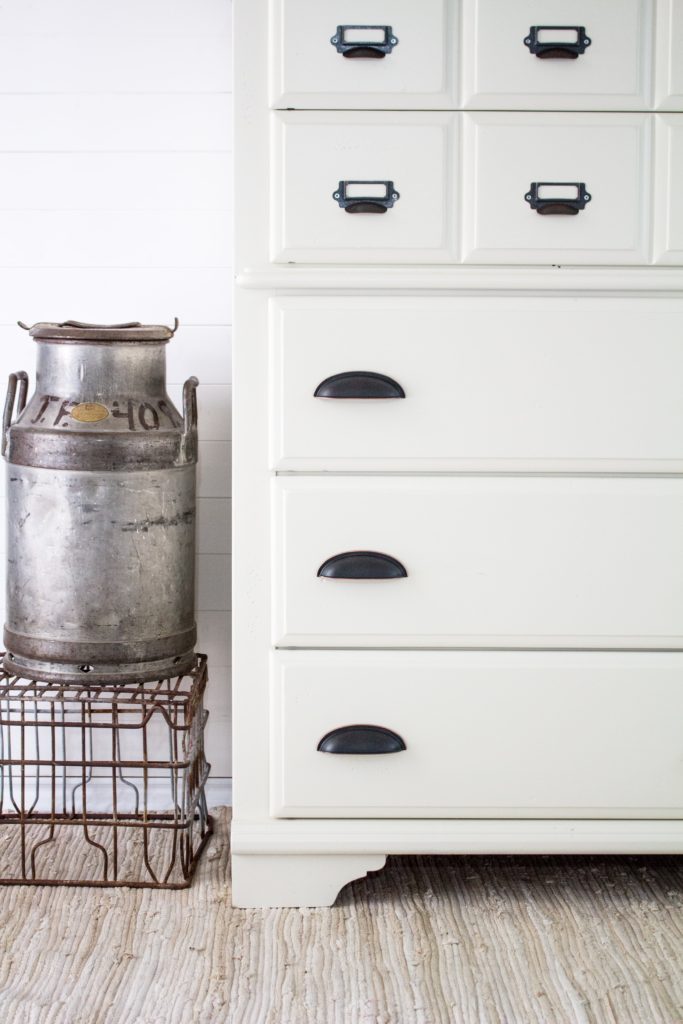 This is a really great shot of the hardware I got from D. Lawless Hardware's website. They have such a great selection of vintage hardware plus a bunch of other goodies I have used in my projects.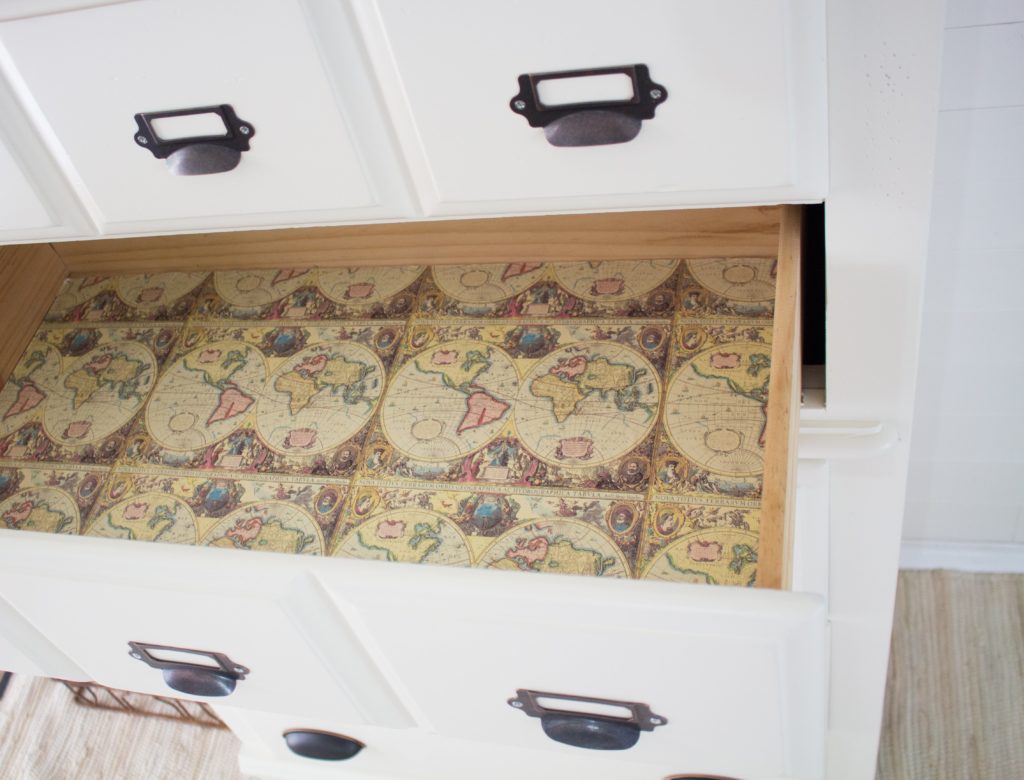 I knew that the last of my vintage map gift wrap would make an excellent drawer liner for this dresser. It definitely completed the vintage farmhouse feel. The clients who purchased this dresser were using it in a nursery and I can definitely see how a baby can grow into a piece like this!
What was your favorite part of this makeover?