Is everyone ready for fall? I know in some of the northern states, it's already started to cool off and transition into fall. I watch Instagram stories quite frequently and see that some of the northerners aren't quite ready to let go of summer yet. So in honor of the fading days of summer, I'm writing this post on another Homestead House color, called "Niagara Green."
I really enjoyed using this color, because it is so coastal and beachy. It reminds me of the time I spent in the mediterranean on  a military deployment in Turkey, particularly a place called "Castle by the Sea" in the province of Mersin.. That deployment was a blessing in disguise as I spent a lot of time traveling and visiting local villages and reconnecting with some of the roots of Christianity there. I was also fascinated that the Turkish lived amongst so many Roman ruins in their everyday lives. We were visiting a local coffee house and walked upon Cleopatra's Gate in Tarsus (home of St. Paul)…literally right across the street. It was so humbling to see history and modern age co-existing.
Here are some photos of  Castle by the Sea I took in 2010: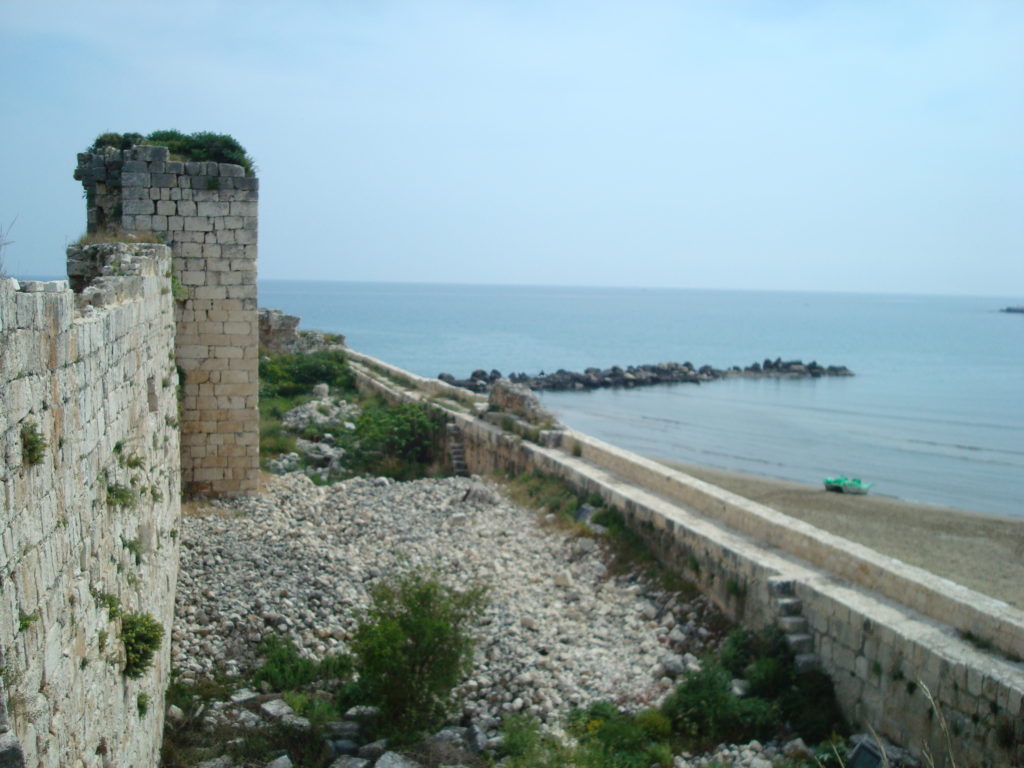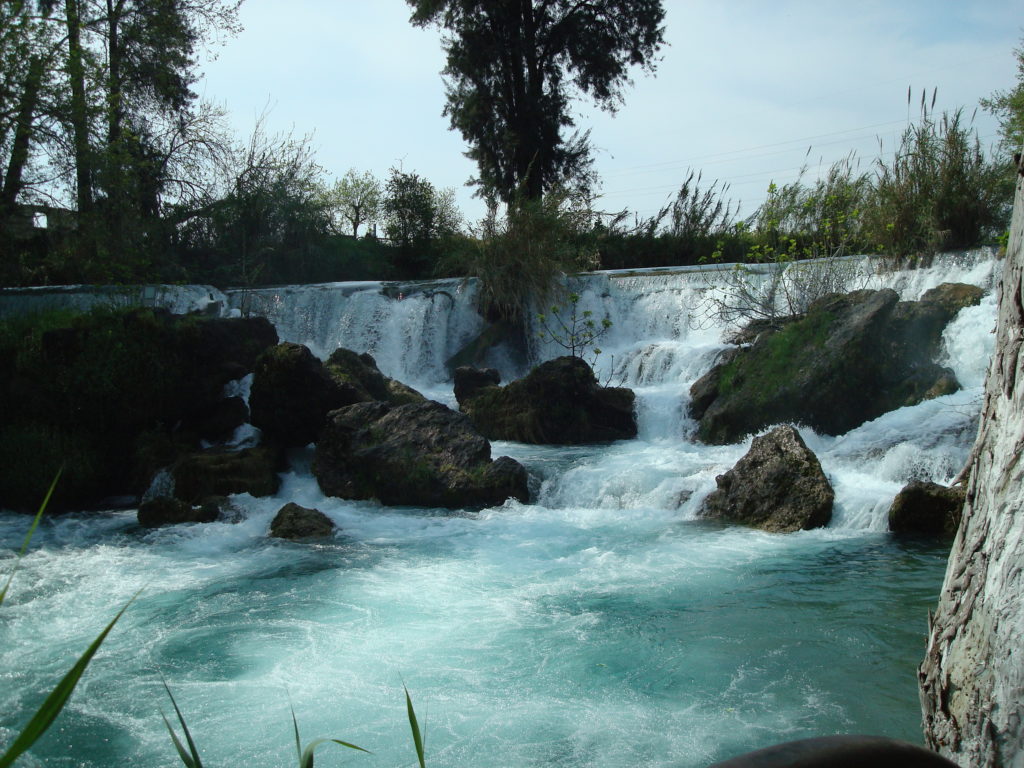 And here is me standing in front of Cleopatra's Gate right outside the Turkish Coffee House: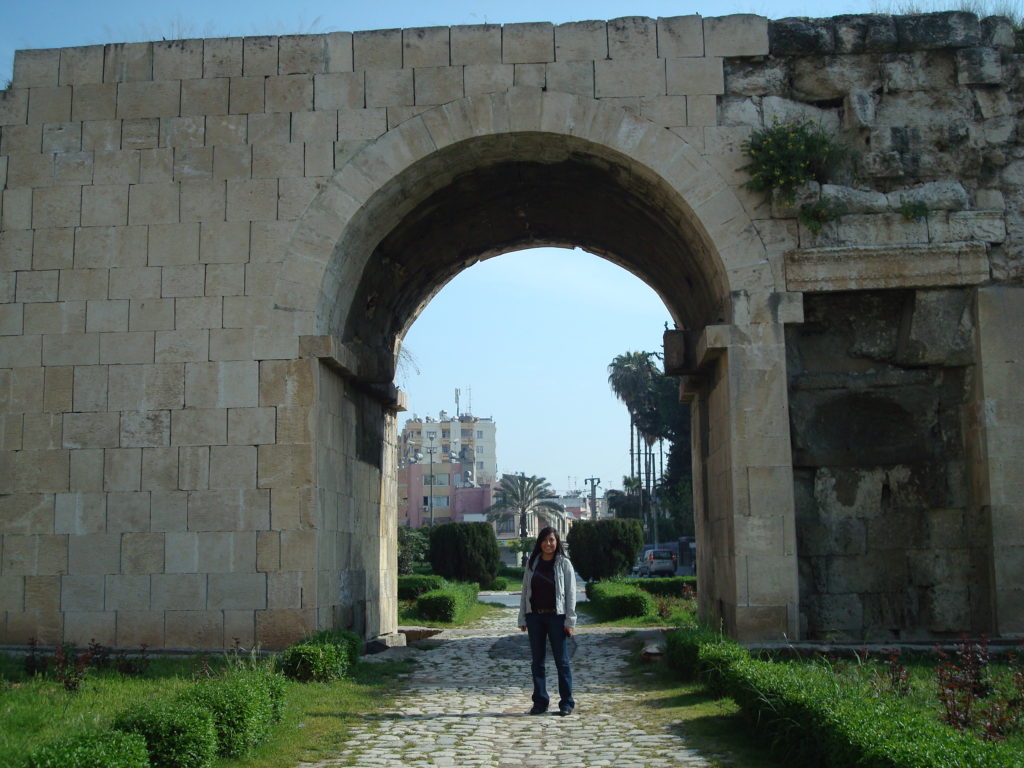 Isn't that amazing?! I wish I could visit Turkey again…I'm starting to get the travel bug. Anyhow, my trip to Tarsus and Mersin inspired this rustic ammo crate makeover in more than one way. The colors of the ocean were vibrant with swirls of blue and green which is exactly how Niagara Green spoke to me. And I was able to combine modern and vintage rustic elements to co-exist, just like the Roman ruins and the modern day Turkish folk.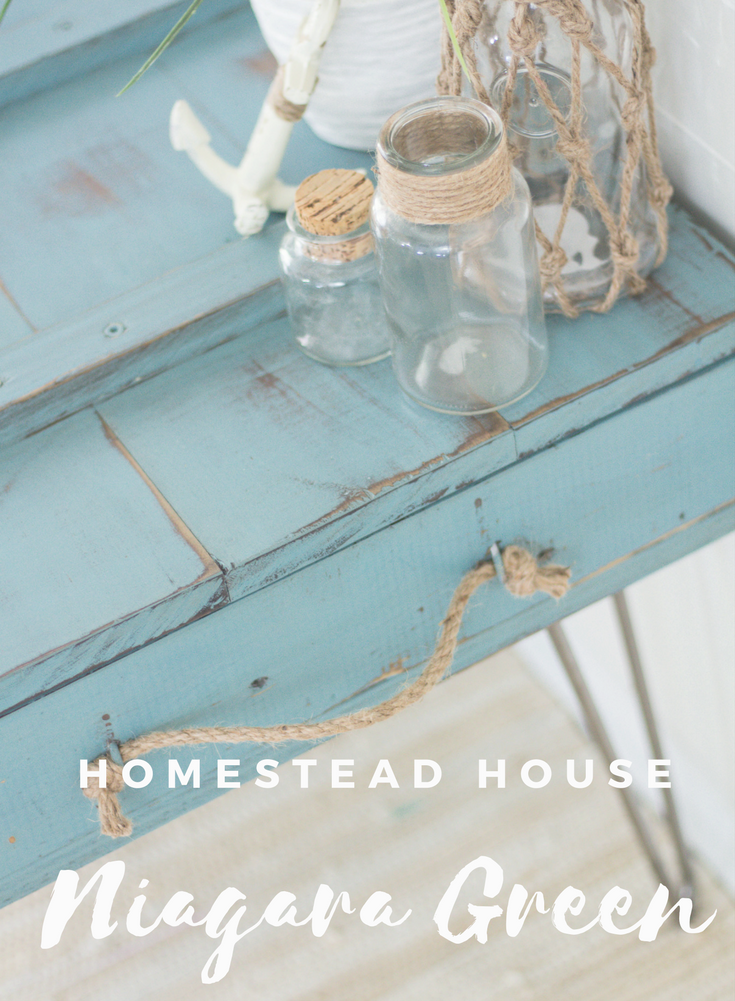 This post contains affiliate links.
I found this vintage ammo crate at my local Goodwill. I immediately knew I wanted to make it into a coffee table, but my husband kept trying to talk me out of it. If you are a follower, you have heard me mention my husband's 12 Stages of Denial when it comes to buying furniture. Often times, it runs through various reasons of why my vision won't work, but in the end we end up at stage 11 where he hits acceptance and then stage 12 of realization when he see's he can do what I asked him in the first place. It's just kinda one of those things he has to go through, you know?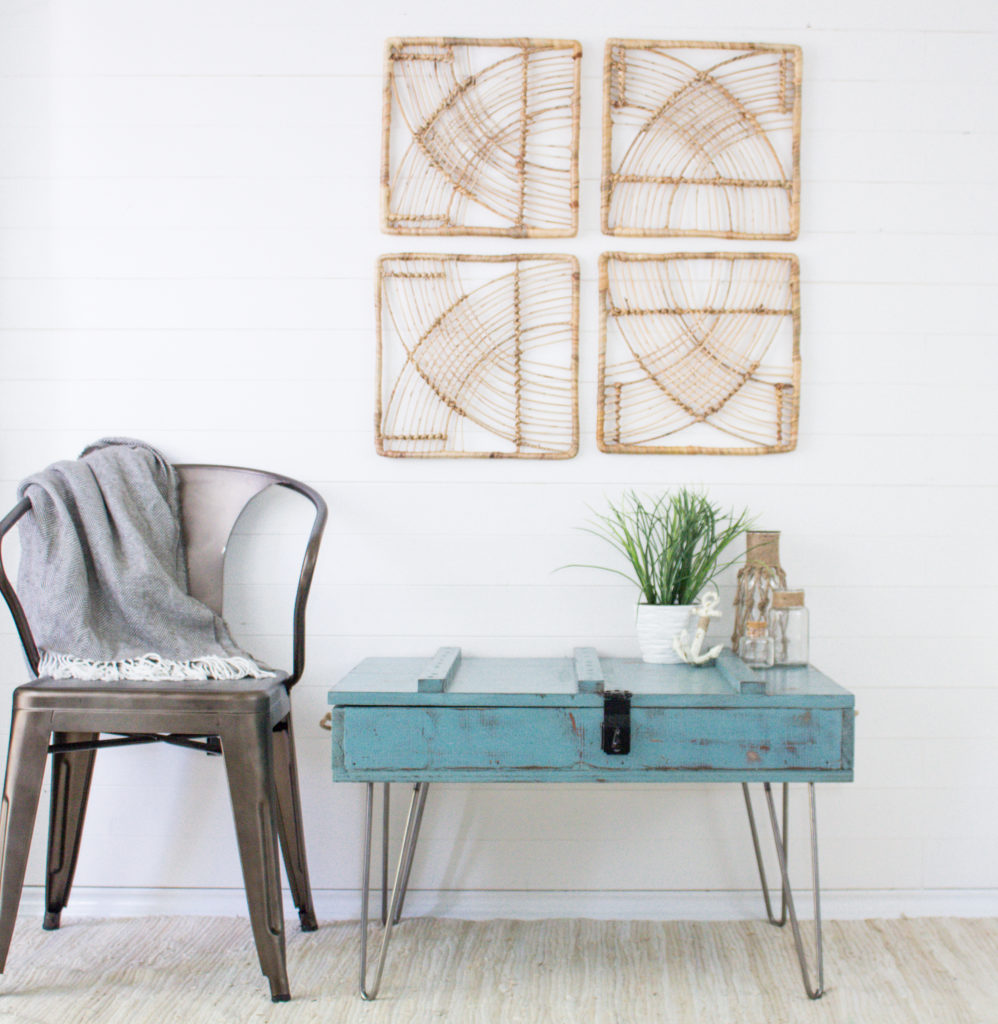 I really didn't do much prep to this piece other than cleaning and blowing out with compressed air. The wood was smooth for the most part, so I just took a sanding block to round out the square edges. I wanted some of the original wood to come through so I sealed with two coats of sanding sealer. Then two coats of Niagara Green milk paint went on.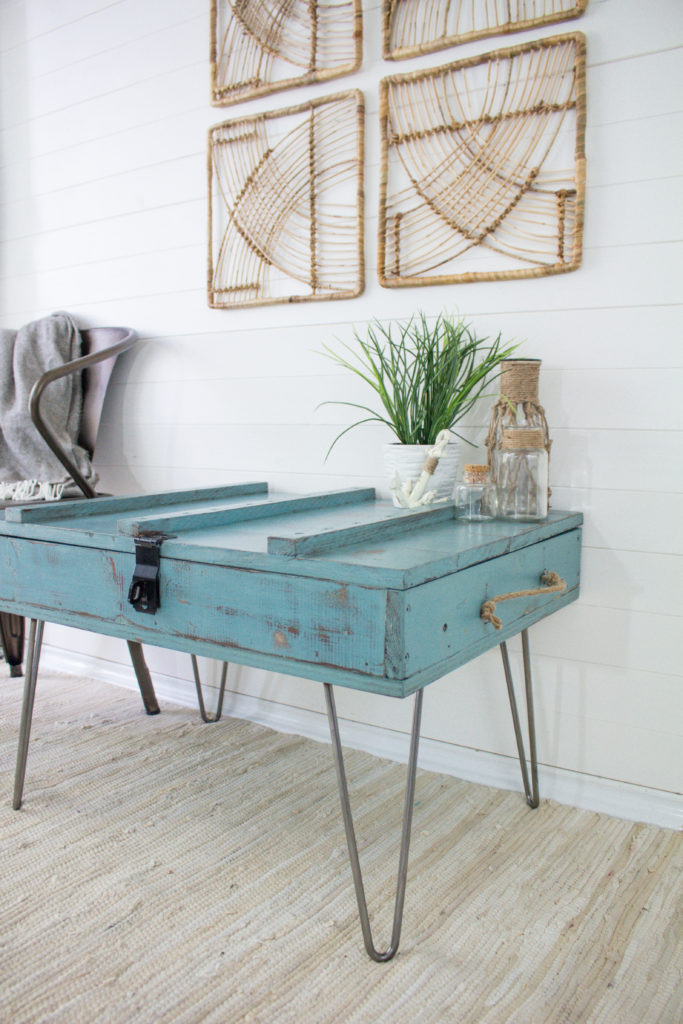 I lightly sanded with an orbital sander and 220 grit paper to give it a smooth surface. You could see where the milk paint did not penetrate and chipped away as I sanded. The distressing gives it a really beachy and coastal vibe, especially when paired with this color.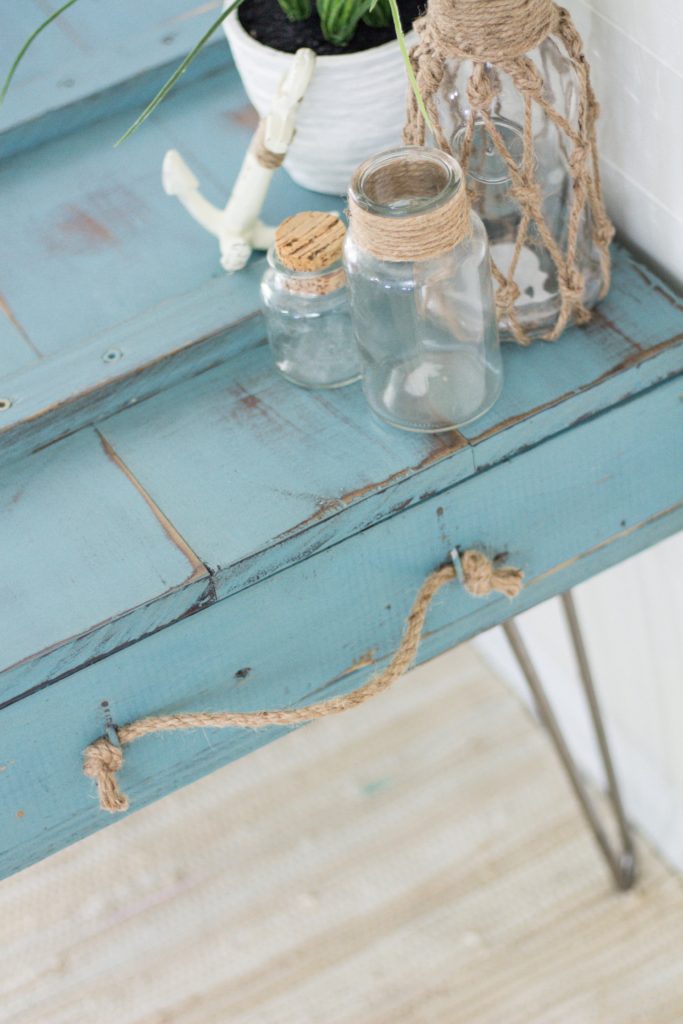 I purchased a set off hairpin legs from Modern Urban Metals. This has become my favorite shop for these legs. They are great quality and arrive quickly! Installation was a breeze, all it requires is some wood screws and placement.  Then I added some hemp rope for the sides to make it easier for moving as the crate was quite large and heavy.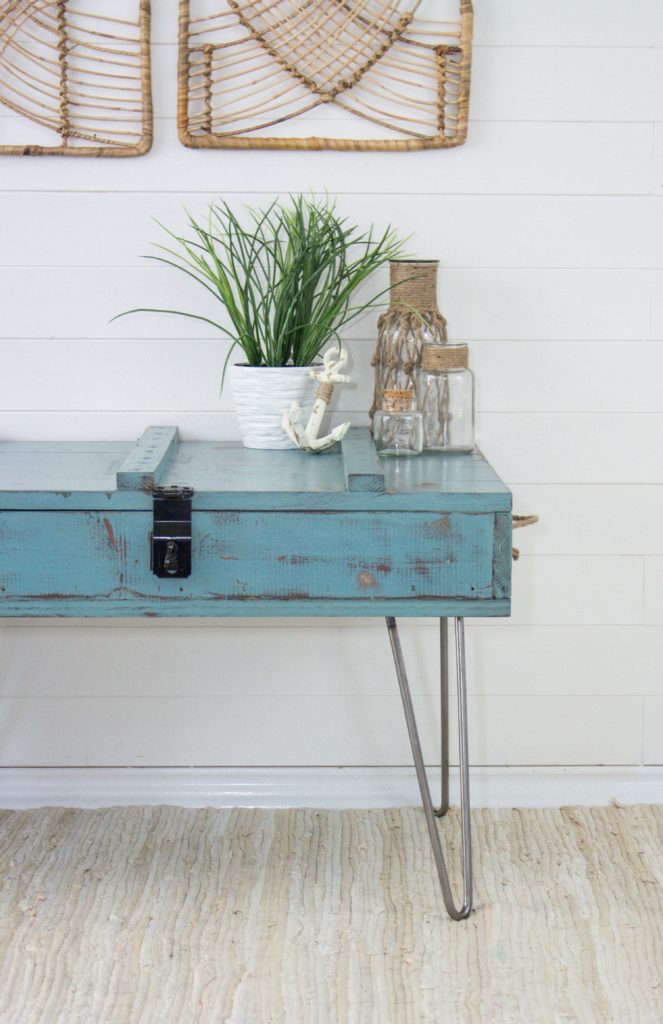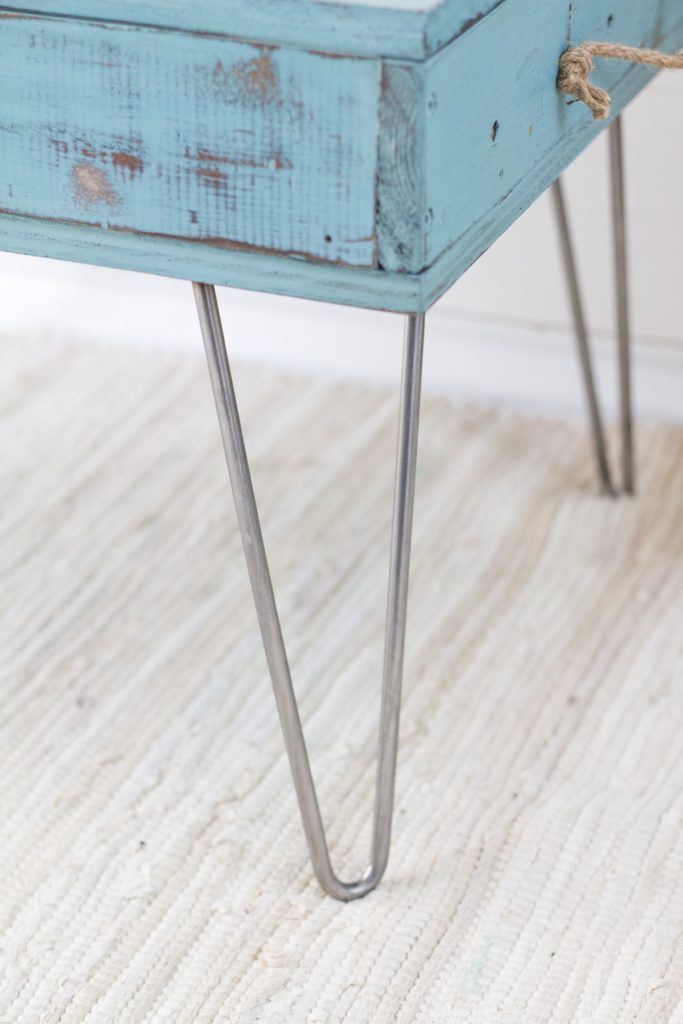 I also decided I wanted to stain the interior, just to break it up a little. I used two coats of Rustoleum's Dark Walnut stain and then I sealed everything (minus the legs) with three coats of Satin Polyurethane for protection. I assume drinks and food will be set atop so I didn't want to take any chances with my seal.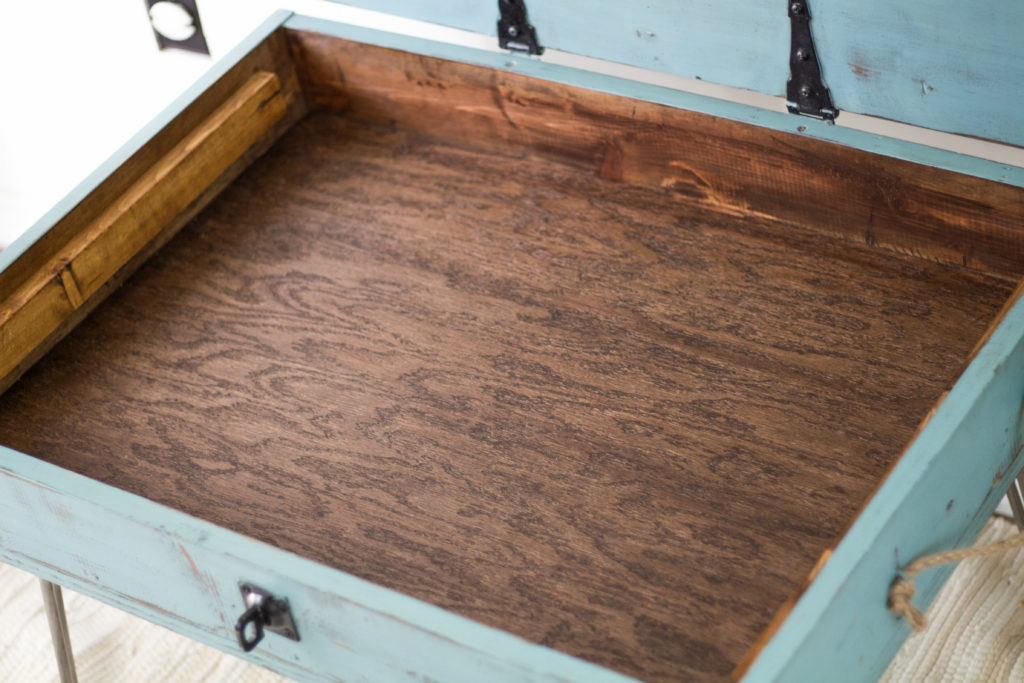 I think overall this piece pays homage to my memories of Turkey and to the warm summer sun. I really love this color because it's vibrant and light, but it's also got some complexity when you try and see which way it leans, whether it's more ocean blue or waterfall green. I can definitely see this becoming one of my favorite colors from the Homestead House Milk Paint line. It truly is a gorgeous color!