Even though Spring is gone, I still love painting with Spring colors. Mint especially since there really is something soothing and fun about minty green colors. This color in particular has become a favorite! I posted these on the Country Chic Blog a few months back and talked about all the details, but I was finally able to find a "before" photo in my phone. I really should clear it out because I've got tons of photos in there of screenshots and furniture! I found these cute deco style end tables at an antique store in my home town of El Paso, Texas. They were a really great deal, and knew I couldn't pass them up. I think Art Deco furniture is making a comeback, especially when you can get really creative and play with colors. Their lines make the perfect canvas.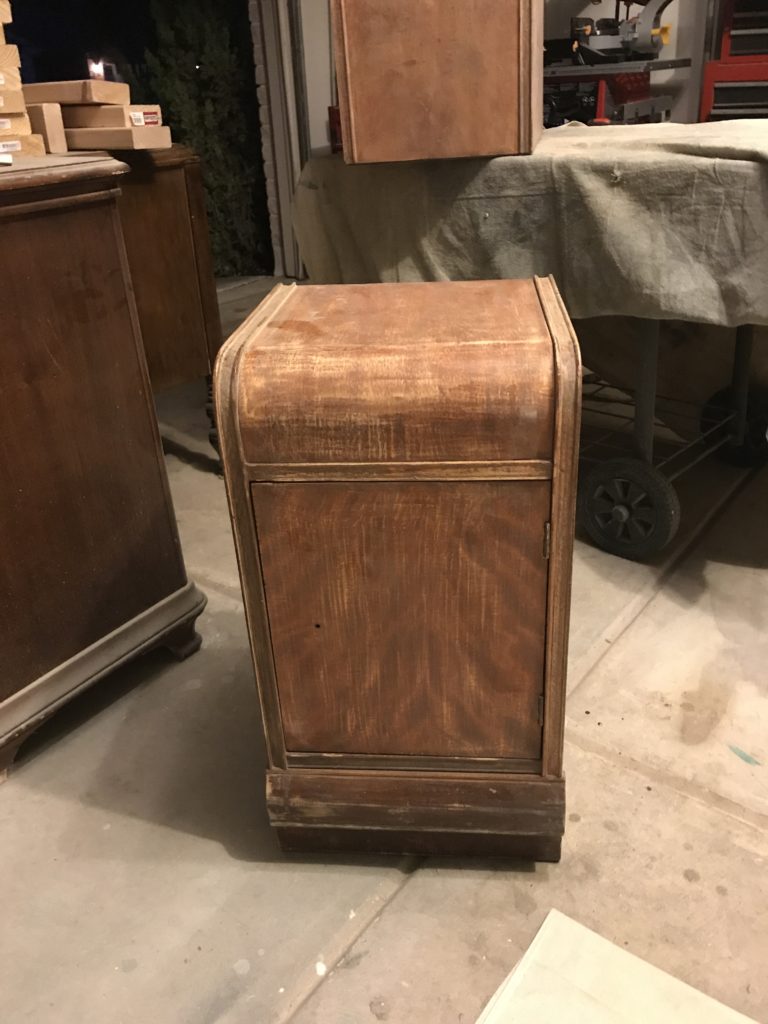 *This post contains affiliate links.
At first, they seemed like something anyone would pass by, especially since Art Deco isn't  really a popular style. But I knew that if painted in a fun color, they could definitely have the potential to be statement pieces and speak for themselves. These tables in particular had a very interesting grain. You can't see from the photo itself, but it was like the wood was shaped in the pattern of the grain and it gave off a very wavy, textured feel. I planned on distressing so, the feel of the wood wasn't that big of a deal.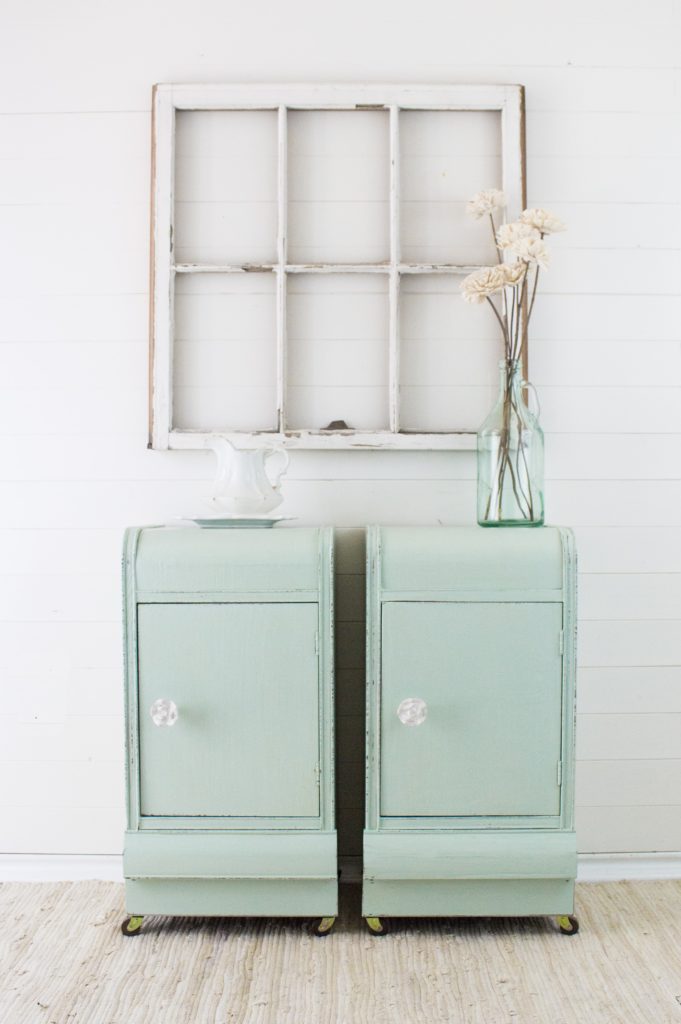 I knew that I wanted this to fit in a coastal home or something near the water. So I chose, CCP's "Happy Hour" which is a very pretty mint color from their limited edition line. This truly is the perfect minty green color, and I can see it paired with gorgeous beach glass, seashells and lots of white and glass décor. This color gives off a very coastal/modern feel and distressing helped break up the grain in a subtle way.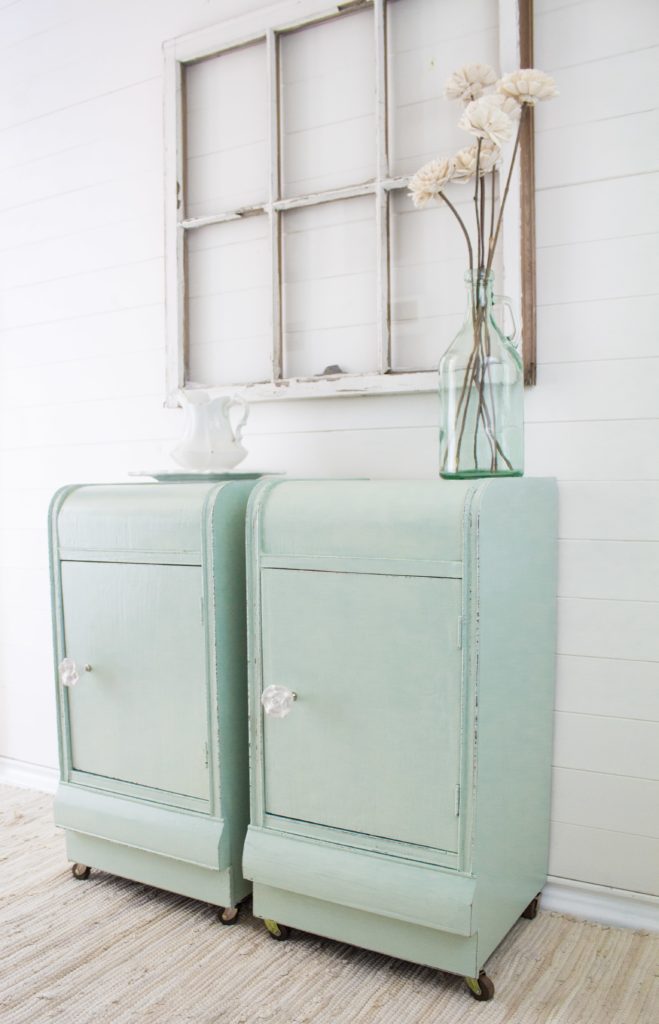 I lightly distressed the edges to give it some added character and tie in the deep wood grain. I wanted these pieces to seem aged, but refreshed.  The tricky thing about old furniture, is you never really know when you are going to get nasty surprises like bleed through. Lightly sanding the tables removed the old finish which was acting as sort of a barrier and opened the grain for the tannins to seep. So I did have to add a few layers of Shellac to seal and prevent these from turning pink. Then I went over it with a watered down wash of the same color paint just to add even more texture and tie in the salt wash feel.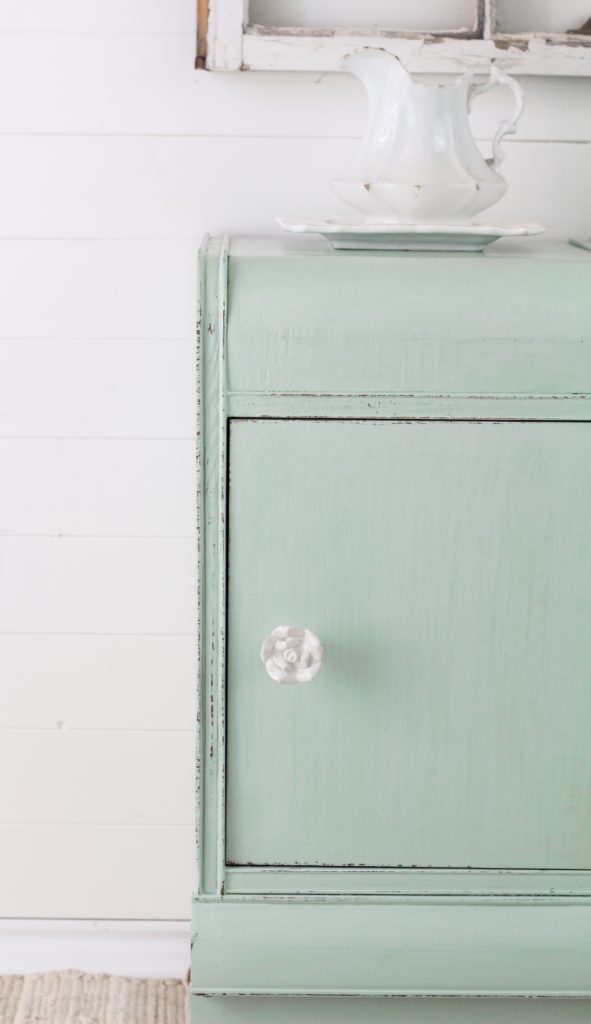 After sealing with a clear coat, and adding some plain white ceramic rose knobs, these tables are ready to fit right in to a home near the water, where they can display all their weathered wood beauty. You can sort of see in this above photo what I mean about the grain being wavy. It definitely makes these surface feel very rugged and aged. The interiors were in great shape so I just freshened them up with Danish Oil in Dark Walnut. I love using Danish Oil to freshen up old wood and surfaces with a good stain. It covers any minor scratches and refreshes the wood. If you want more protection than the varnish it has built it, you can always spray it with shellac.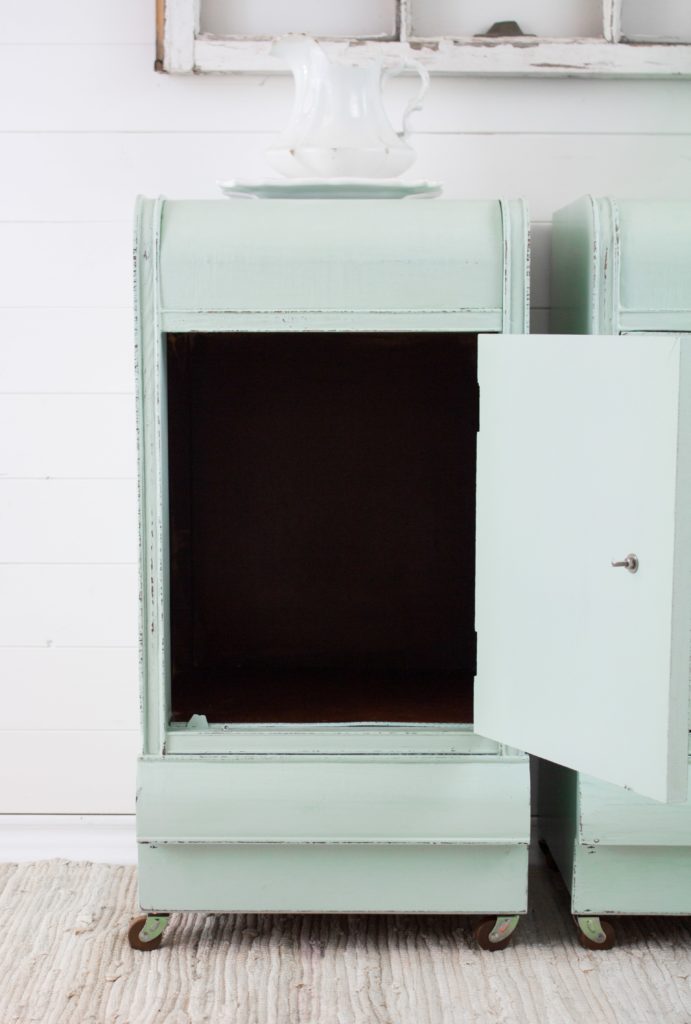 I hope you guys love this color as much as I do. It really is a very pretty, neutral color that breaks from the usual white and linens. Ill definitely be using this color again! I can only imagine how refreshing it will be in the winter time.