Hey Everyone! I know it seems lately I've been a bit neglectful of my blog, but really I'm just trying to find a better balance for my home/work life. Working a full time job and managing a hobby-turned-business isn't always fun. In fact, I go through stages where I question everything I do, and wonder if my decision making skills can be trusted. I've learned to accept it all in stride and deal with the temporary emotions as they come and go. I've been working on adding some new items to my Etsy store and taking another stab at reviving my candle line. With the holidays coming up, furniture sales have slowed so I'm hoping I have more time dedicate to blogging and my store (my furniture pieces have begun to close in on me).
In the mean time, I wanted to blog about switching finishes to help reset. If you are a long-time follower, you will know I sway to rustic and distressed finishes. Occasionally, I try modern finishes, which is always a great way to practice on finishes that make me uncomfortable. I stepped out of my comfort zone with chippy and distressed and decided go go for a sleek modern meets rustic look on the Mid Century Modern desk.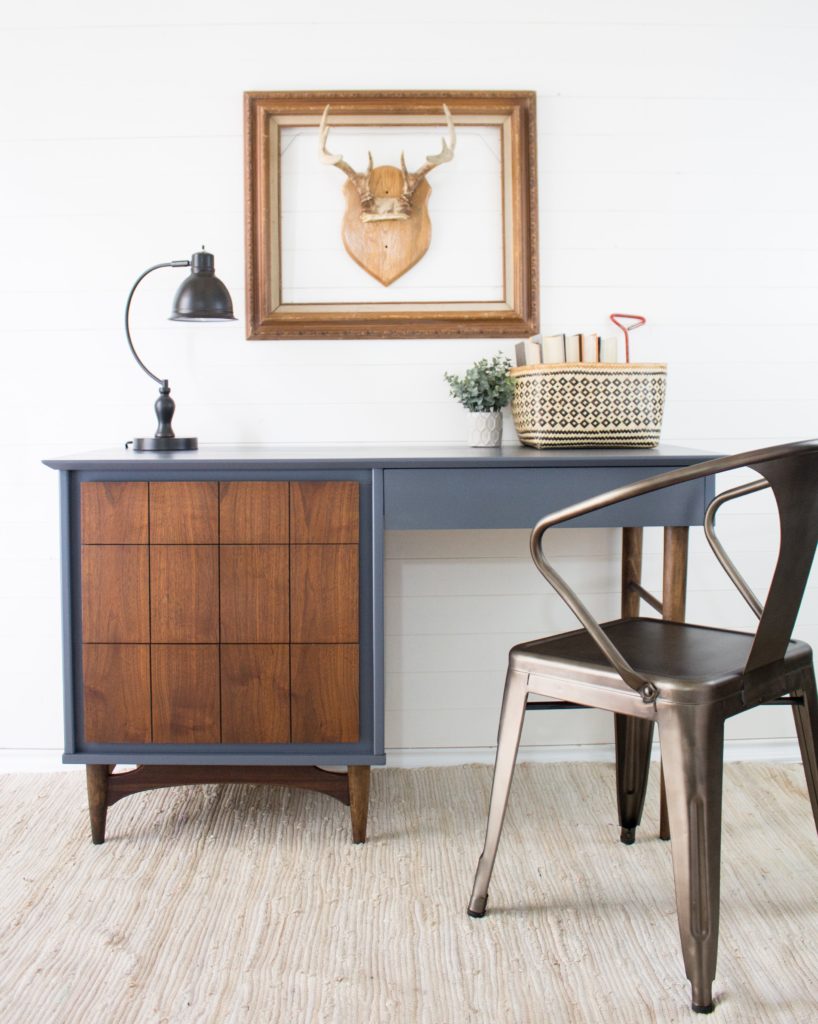 *This post contains affiliate links. However, these are products I use frequently and love!
I picked this up from a local flea market here in San Antonio for a great price….but it needed a ton of work. There was missing veneer everywhere, the drawers and top were heavily scratched and there were holes in the back from where someone tried to apply a brace for maybe a mirror? I'm not sure, what I did know was that the prep was going to be daunting, so off it went into the back of my garage for a year.
I did my usual cleaning and debugging before I approached the wood filling. All in all, I patched about 35 chips to save the body. Miraculously, the drawers had no chips, just scratches that needed a good sanding. I knew I wanted there to be a wood and paint contrast so I decided to keep the legs and drawers wood, and paint the body.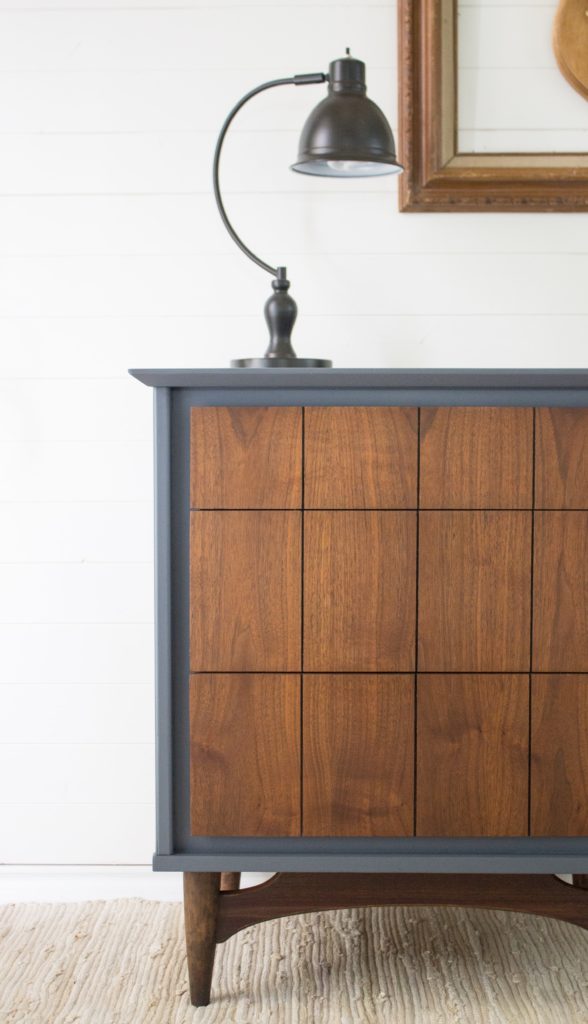 I sprayed about 3 coats of Country Chic Paint in the color "Hurricane."  If I had to describe this color, it would definitely be a moody blue with huge gray undertones. Since I was going for sleek and modern, I sanded with 320 grit in between coats of Satin Topcoat do give it a bit of shine.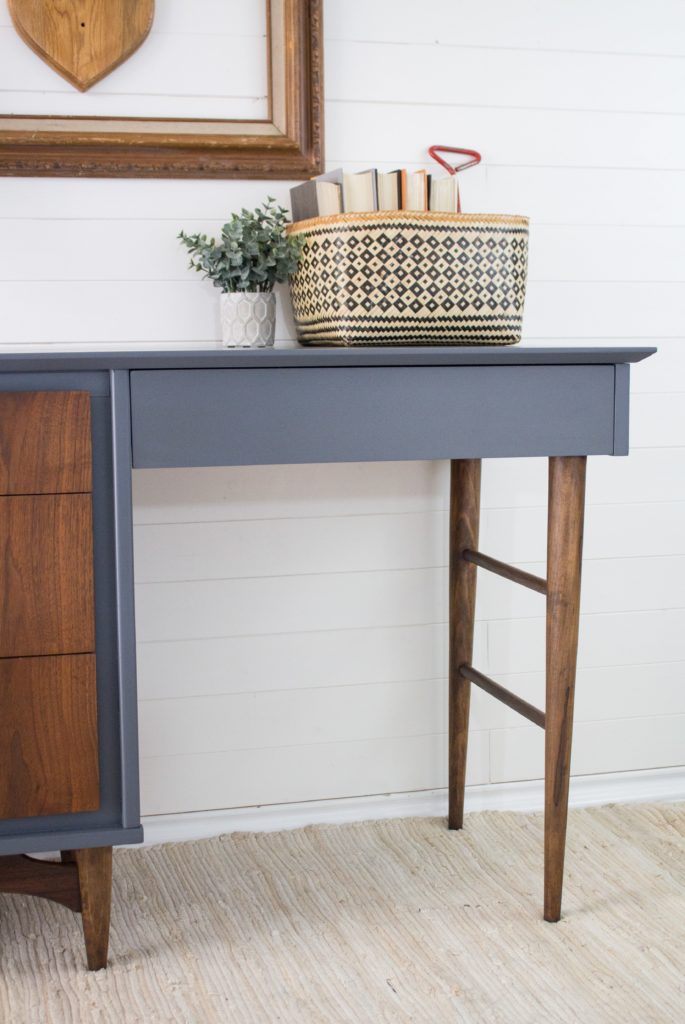 The drawers were sanded and given a few coats of Homestead House Stain and Finishing Oil in One in the color Cappuccino. This stain gives you a rich, dark first coat which I love because it helps you build to depth you want easier than reapplying multiple coats. Then I used my absolute favorite wax, Fusion Mineral Paint's Hemp Oil/Beeswax mixture to seal them in and give them some shine to match the base.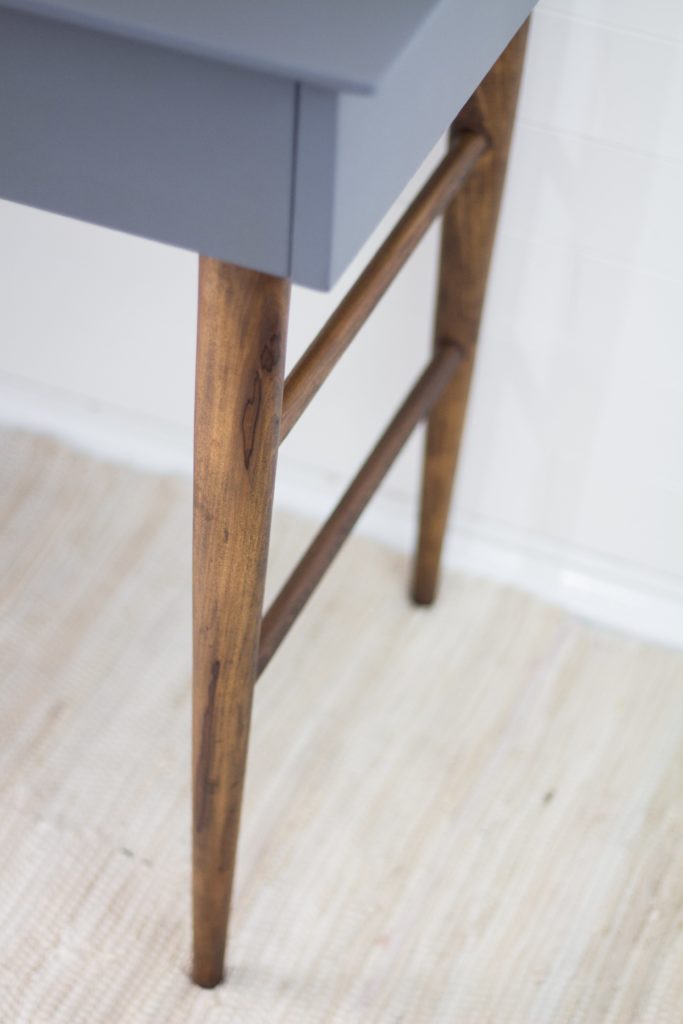 The legs were probably the most work. They required tedious sanding to make sure the grain was open and willing to accept the stain. But in the end I think I definitely accomplished my look of rustic modern!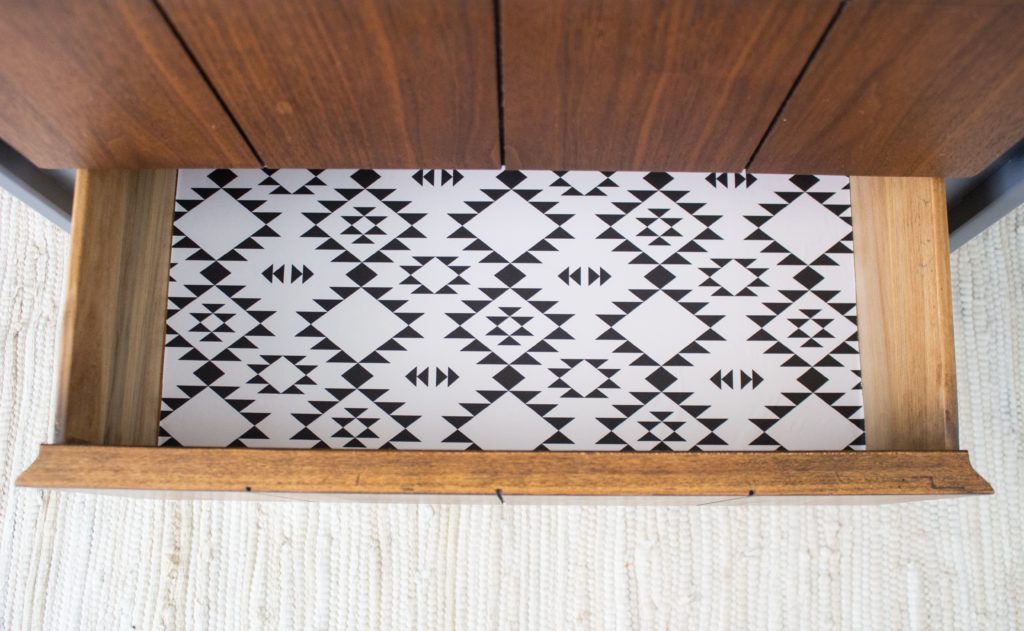 I even added a really cool aztec print I got from Spoonflower to mix it up a bit and give it more of a retro vibe. I'm really happy with the way this desk turned out! It ended  up going to a lovely home in Kentucky where it was perfect for my clients needs! Check it out in her space below!