As the holiday season takes off, more people are buying candles and vintage items from my Etsy shop, so I have been keeping busy with trying to restock, preparing for craft markets and balance home life with my full time job. It hasn't been easy and I feel exhausted but also exhilarated because this is the first year of our business where we have really taken off. On the other hand, furniture sales have been slow for us the last couple weeks, but a few of my pieces are starting to trickle out.
Since we are also preparing for a move, we have to consider downsizing and selling our home. Im pretty sure prospective home buyers don't want to see an office stacked to the ceiling with furniture and decor, so we will have to figure something out to do in the meantime. Speaking of furniture sales, I want to reminisce with you about of of my ALL-TIME-FAVORITE projects. This little Eastlake chest I painted in Homestead House Milk Paint in the color Loyalist.
**This post contains affiliate links.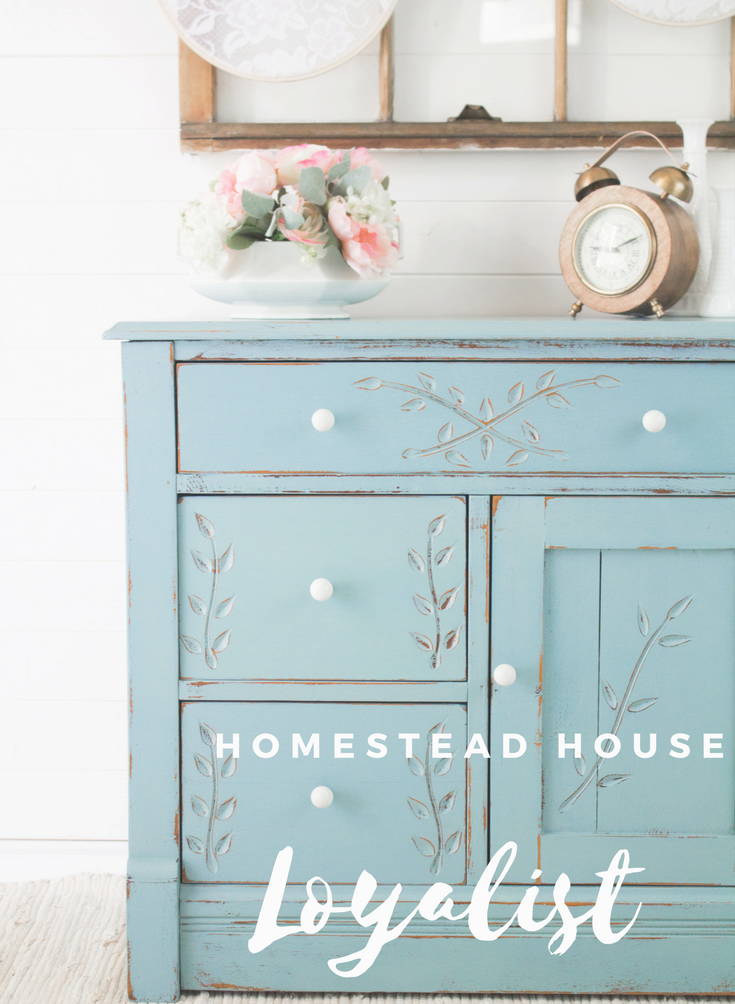 I have never come across an Eastlake chest with this pretty leaf design. So obviously, I had to have it. I purchased it from a lady here in San Antonio, who was downsizing her apartment and she graciously let me have it for an amazing price. It was in perfect condition, in fact, recently restored. But the reason I was able to get it for practically free, is that it really was this dingy, yellow-orange stain and it really looked outdated and very 80's with the golden oak.
Before the furniture police start blaring the sirens, I want to say that furniture only has true value to a person who is only willing to pay so much for it and I'm not diminishing it's value by painting it, if no one had bought it in it's original condition. So if this gorgeous Eastlake chest was on a garage sale site for months with no bites, it most likely is because no one saw value in purchasing the dresser as it was. Until I came along and saw what it could be with some pretty paint and gave it a fresh look. Then it was valuable to my buyer's as it sold in less than one day. I have a feeling it will be a long time before painted furniture goes out of style, until then my clients love refreshing antiques with paint and making it work for the THEIR homes.
DISCLAIMER: I HIGHLY recommend doing your research on vintage and antique pieces BEFORE you paint them. If it's a reproduction or a piece that is common, feel free to paint away. But if a maker's mark is calling for a lot of $$ in it's original condition, target your sales to the people who are into original antiques.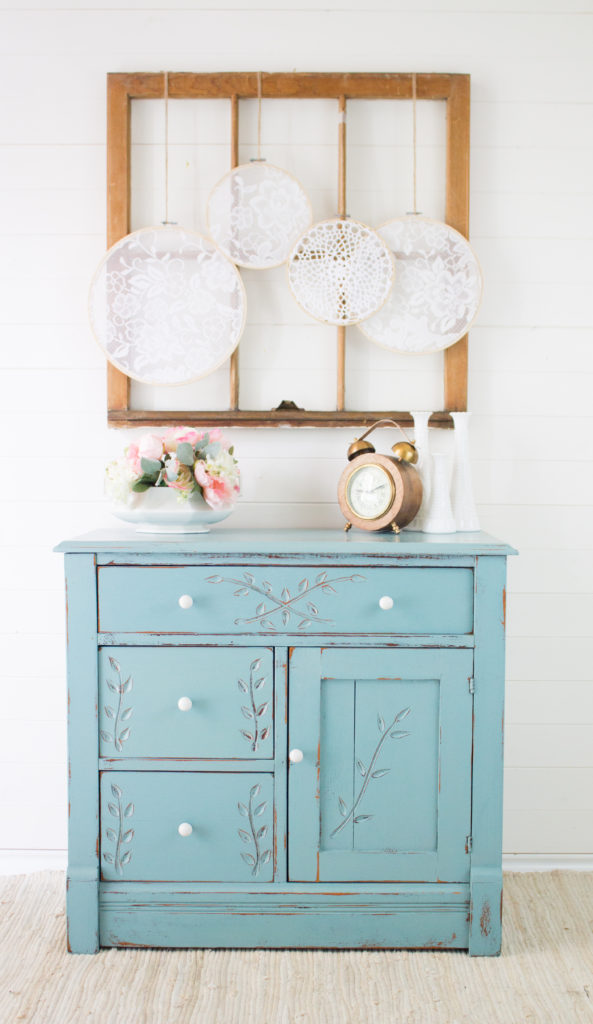 Prep on this piece only required a light sanding. It was coated in an oil based polyurethane so I needed to break the seal by scuffing it with 180 grit paper. I used some tack cloths to wipe away the fine powder, then I proceeded to paint. I mixed the color "Loyalist" and let it sit for about 30 minutes to break down the pigments.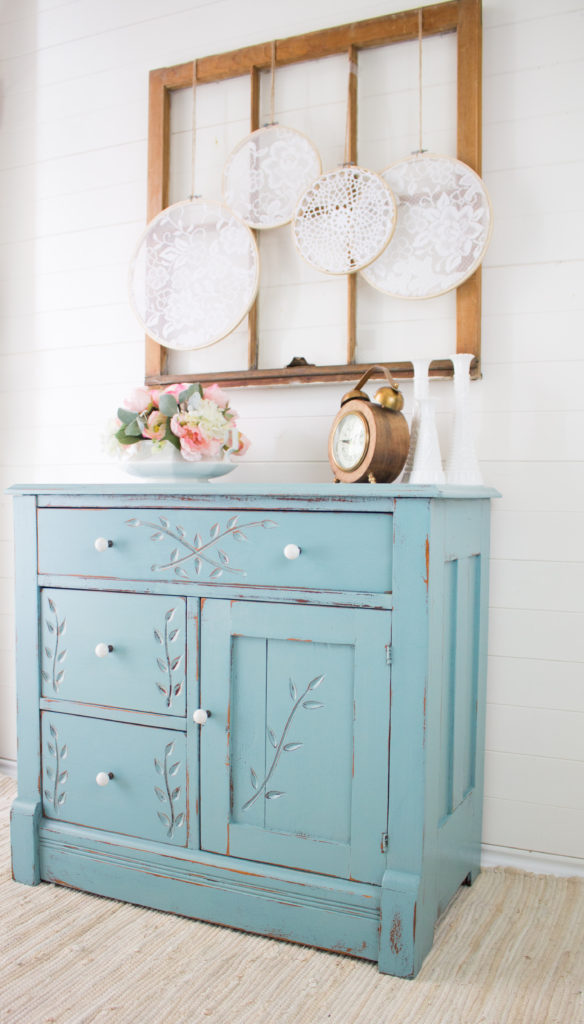 I really love this color because it's very coastal. Loyalist is definitely one of my top 5 favorite colors on the Homestead House Milk Paint line because it's so versatile and so many people are into having this color in their home. It can go so many different ways with interior design, anywhere from cottages, to beach homes, to modern farmhouses, even to newer, contemporary homes.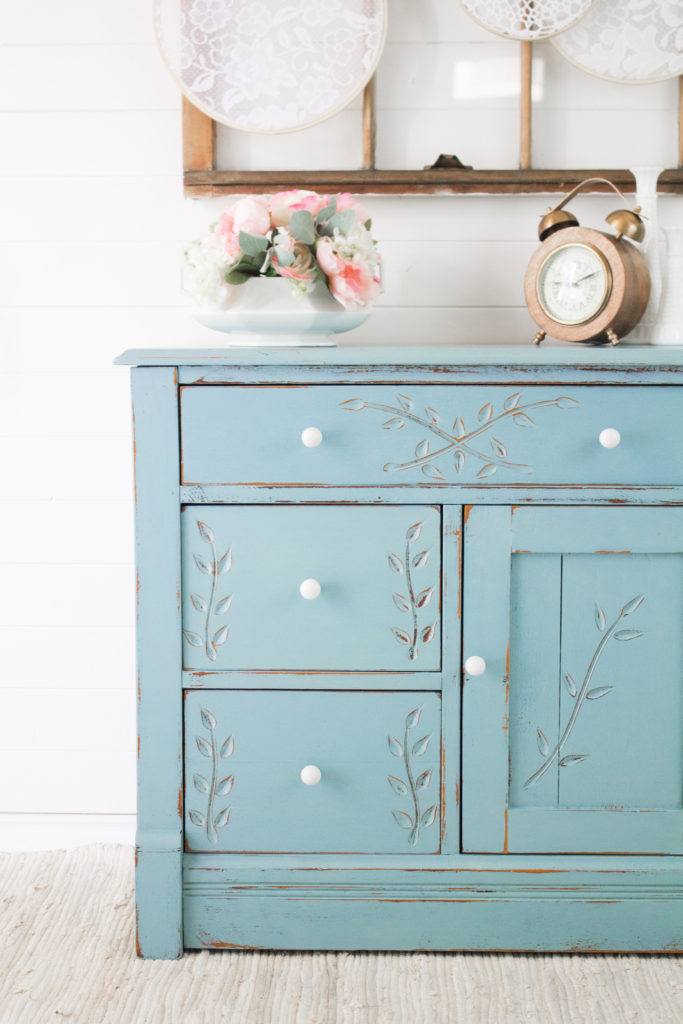 Because this chest had been recently refinished, I expected that I would get a seriously chippy piece. I wanted something subtle, but aged so I added Homestead House Bonding Agent to the milk paint to ensure that it didn't overdo itself and flake off completely (I've had that happen before). I used my sanding block in 220 to smooth away the surface an to distress on the edges and detail. I love that the light distressing on the leaf design, makes it pop against the beach blue color.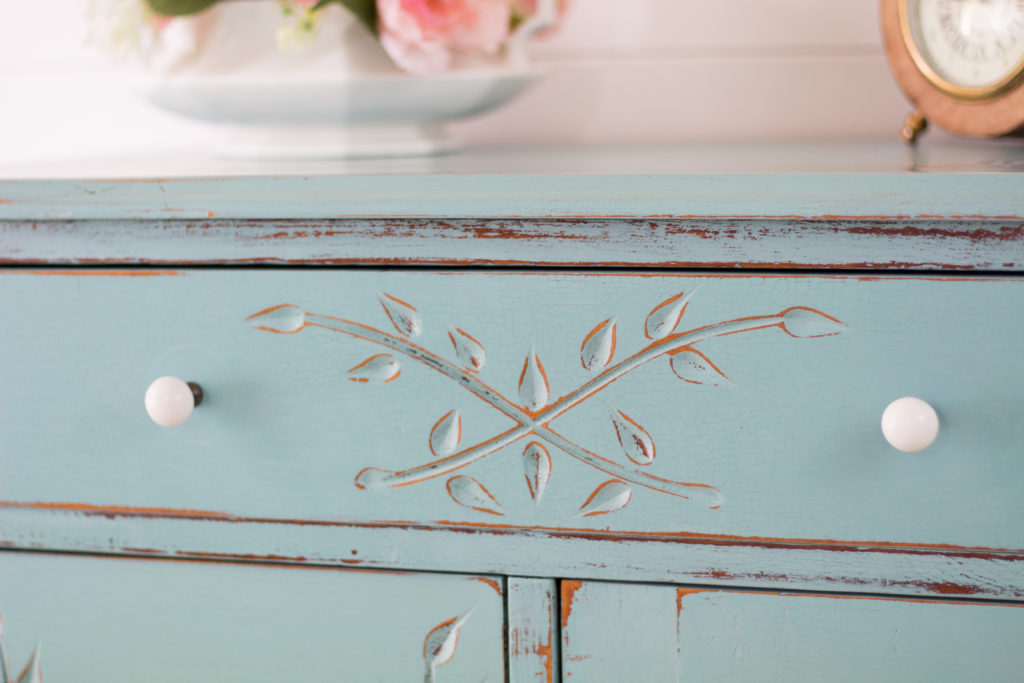 I just wanted to add some plain white knobs to the drawers and door. I didn't want to take away from the color and design so white was the perfect choice. I believe I got these knobs at Hobby Lobby and they were the perfect size!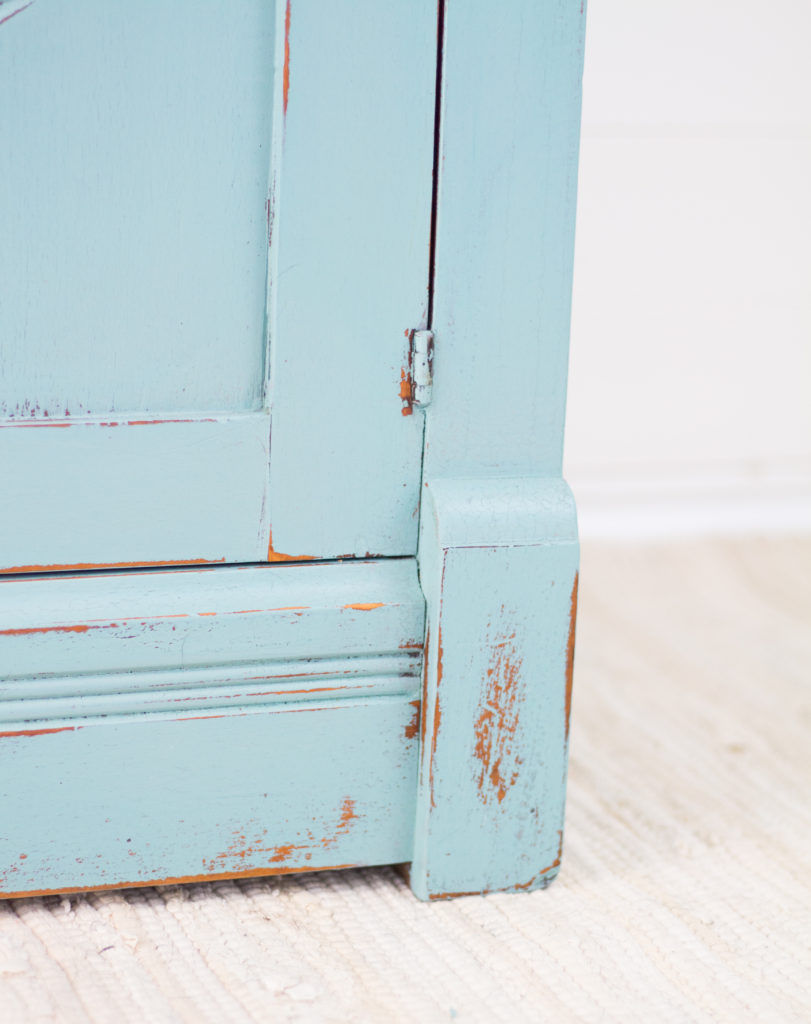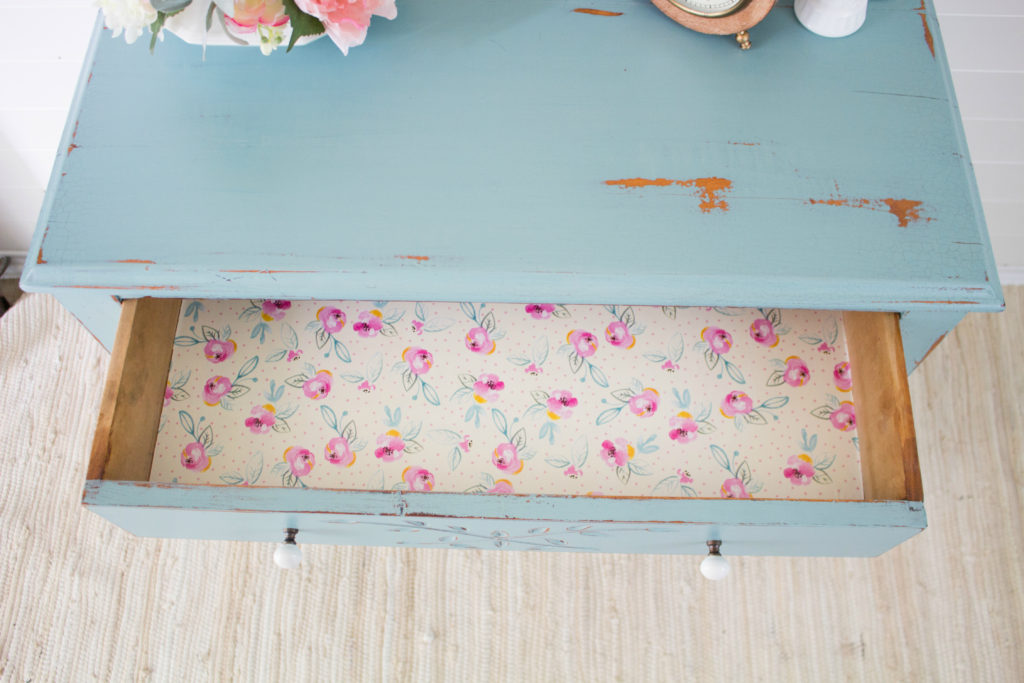 I knew I had some remnants of watercolor rose paper that would match perfectly. It turned out lovely.
I really love that vintage and antique pieces are becoming a common staple in homes nowadays. Before, grandma's dingy dresser  used to sit in the basement because it held too much sentimental value, but no one wanted to tackle bringing it back to life.  Paint can go a long ways in reviving your pieces, it's just all about picking the colors and designs that work for you!